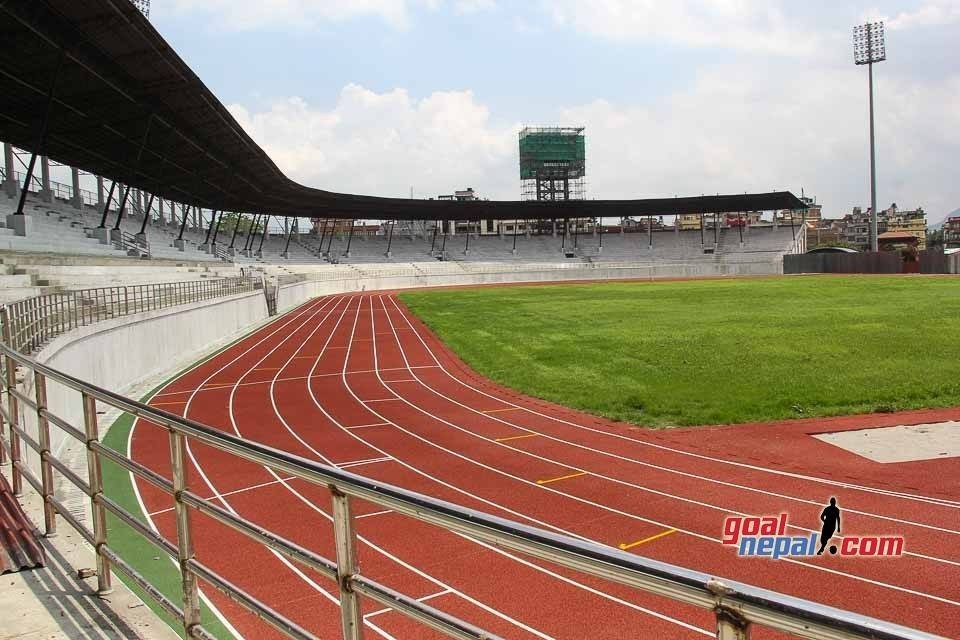 National sports council has shown its willingness to host Nepal's home matches of FIFA World cup round 2 Asian qualifiers at Dasharath stadium.

The stadium - which is under construction post deadly Gorkha quake in 2015 - has work-completion deadline of November. China Aid is renovating the stadium and they haven't yet handed over the stadium to Nepal government.

Nepal is playing first home match (against Kuwait) on September 5, 2019.

The newly appointed member secretary Ramesh Silwal said they would do everything possible to host the matches at Dasharath stadium, Nepal's only one international stadium. However, there are so many things to do in the stadium.

According to FIFA guidelines, stadium must have proper seating arrangement (must have seats with number), dressing rooms, referee's rooms, match commissioner rooms, toilets, showers and proper security measurements. These are under construction.

The engineers at NSC said that it will take three to four months to complete everything. Thus hosting first home match on September 5 and second match on September 10 is quite challenging.

Member secretary Silwal said, "If the field is ready, we can host the matches". This is certaintly not true. FIFA won't give clearance if the stadium doesn't meet their requirements.

ANFA is also in touch with sports council. The FA seriously wants to host matches at Dasharath stadium as they can generate some handsome revenue.

The problem is that the stadium won't be technically ready for two home matches scheduled in September. But if state wants, they can work day-night to make it ready for the matches.

The last option for ANFA would be writing to FIFA. They can ask the world governing body to compromise for what they have. Otherwise Nepal should play at Halchowk ground or they can play their "home" matches in neutral venue where many Nepalese expats are living.
Nepal Coach Johan Kalin - Everybody Knows It's Big Game Against Kuwait