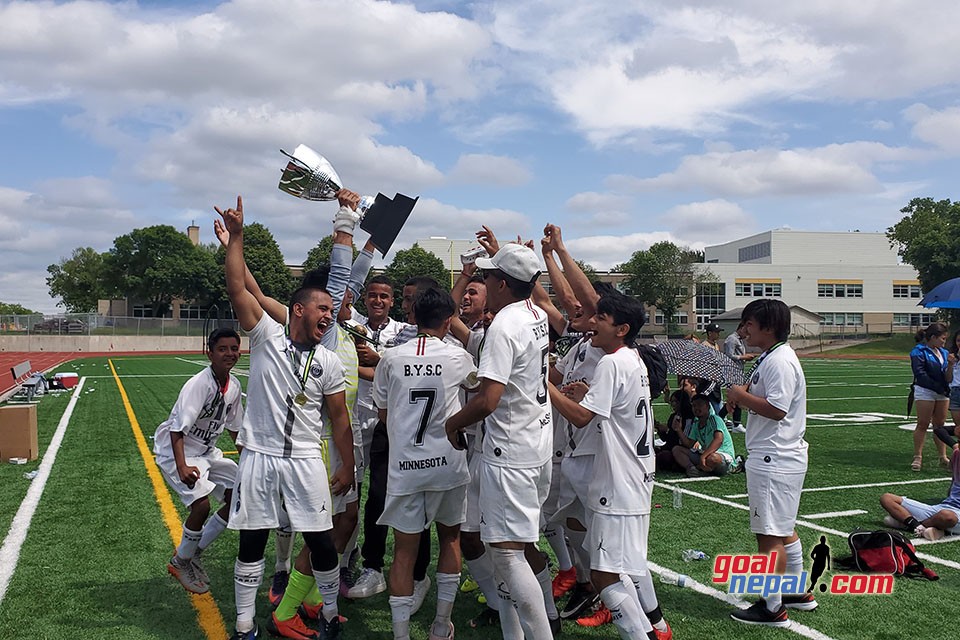 Keshab Magar of Pennsylvania was awarded with the best player of 1st Minnesota Champion Cup.
Minnesota clinched the title of 1st Minnesota Champion Cup following 2-0 win over Pennsylvania in the final of 1st Minnesota Champion Cup at Saint Paul, Minnesota on Sunday.
Iroj Gurung of Bhutanese Youth Sports Club was announced the best defender.
BYSC goalie Pujan Thapa Magar got the best goalkeeper award.
BYSC's midfielder Dhiraj Basnet was declared the best midfielder award.
Sudesh Towari of United FC was rated the best forward.
BYSC's Kismat Tamang, who scored 7 goals in the tournament, was awarded with the highest goal scorer award.
Jitu Kaka, Match commissioner of the tournament distributed all prizes .
Tournament coordinator Siva Humagai thanked to all participants, sponsors and officials.
GoalNepal Page live was telecasted by Nawaraj Barakoti. The champions bagged 10,000 USD and runners up team received 5,000 USD.
Sun foods, Ramayilo Entertainment, Irstat, BHHCS, Square Choice insurance, Asian market, Star
ocean wholesale foods, County financial, Lekali pasal, Sun world super market, International home care, double dragon foods and title smart Inc sponsored the event.
Bhutanese Youth Sports Club, Minnesota organized the three-day championship.