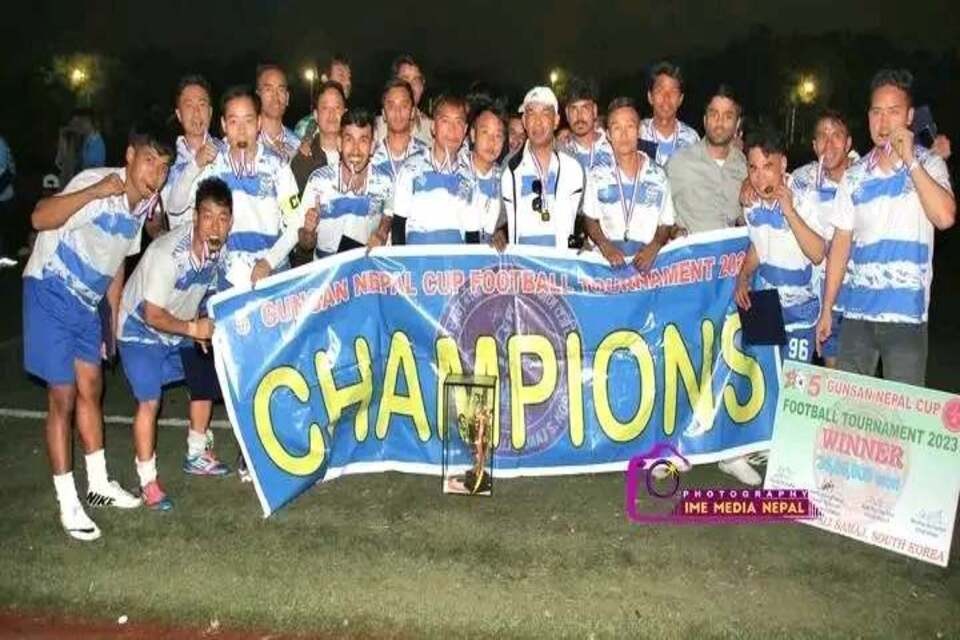 The Royal Gorkha Football Club has succeeded in winning the title of "5th Gunsan Cup" organized by Gunsan Nepali Society in Gunsan.
Royal Gorkha defeated Undong Football Club through penalties in a very competitive final at Gunsan City, South Korea.
20 teams participated in the football tournament including the organizer, the winner Royal Gorkha Football Club received 35 lakh won trophy, medal and certificate while the runner-up Undong Football Club received 20 lakh won cash and trophy, medal and certificate.
The best goalkeeper of the tournament was Anil Rai (Undong Football Club), the best player - Bijay Sambahamfe (Royal Gorkha Football Club), the highest scorer - James Rai (Gunsan Football Club).
Similarly, the best players were awarded 1 lakh won along with trophies and medals, Chairman of the organizing committee Bhanu Acharya has informed.
The live broadcast of the match was done by Goal Nepal.com. Program coordinator Amit Yonghang Limbu informed that the program was conducted with 20 teams participating in the competition.