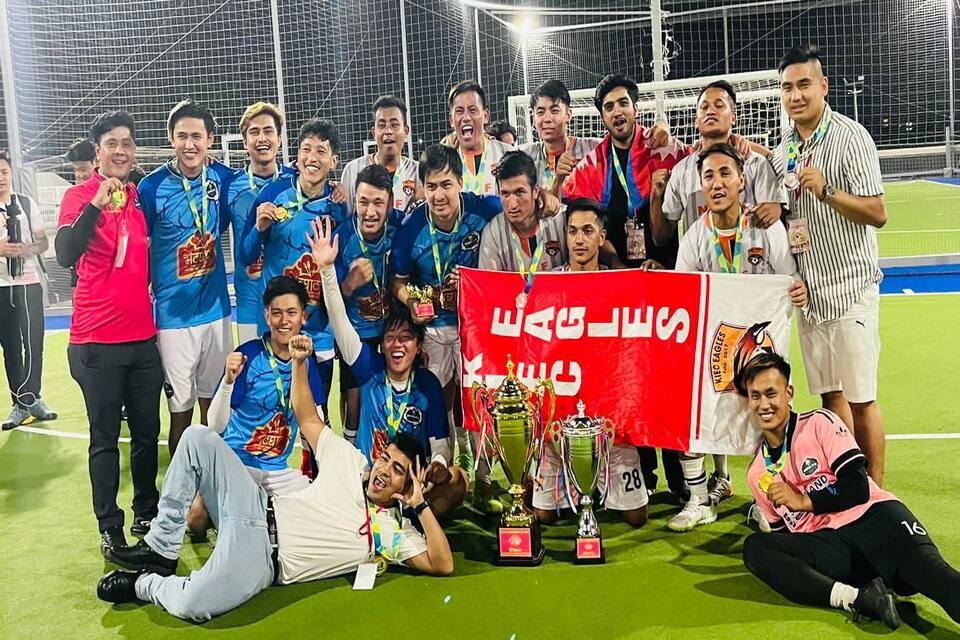 In the 2080 edition of the 3rd BFC Laligurans Cup, the footballing action culminated in a thrilling showdown with the following notable outcomes:

1. Championship Conquerors: Beni F.C. emerged victorious as the winners of the tournament, showcasing their footballing prowess.


2. Runner-Up Excellence: The KIEC Eagles exhibited exceptional skills and sportsmanship to secure the runner-up position in this prestigious tournament.


3. Goal-Scoring Sensation: Shajan Pradhan of Beni F.C. demonstrated remarkable goal-scoring abilities, finishing as the highest goal-scorer of the tournament.


4. Guardian of the Goalposts: Raju Tamag, the goalkeeper for Beni F.C., earned the title of the tournament's Best Keeper for his remarkable efforts in safeguarding the net.


5. Star Player: Bishnu Lama, representing Yodogawa F.C., stood out as the tournament's Best Player, showcasing exemplary skills and leadership.


The electrifying final match witnessed Beni F.C. clenching victory by a narrow margin, defeating KIEC Eagles with a scoreline of 2-1. Ashik Gurung from Beni F.C. emerged as the hero of the final, contributing two crucial goals, while Bibek Basnet of KIEC Eagles netted one goal in a commendable effort.

The rewards for their exceptional performances included substantial cash prizes:

* Beni F.C. claimed the coveted 1st Prize, walking away with a substantial sum of ¥400,000.
* The KIEC Eagles, as the runners-up, received a commendable 2nd Prize of ¥200,000.
* Additionally, individual excellence was acknowledged as each player received an Individual Prize of ¥5,000, along with a well-deserved trophy.

This year's 3rd BFC Laligirans Cup showcased the essence of competitive football, with Beni F.C. emerging as the triumphant team, while standout individuals were honored for their contributions to the tournament's success.