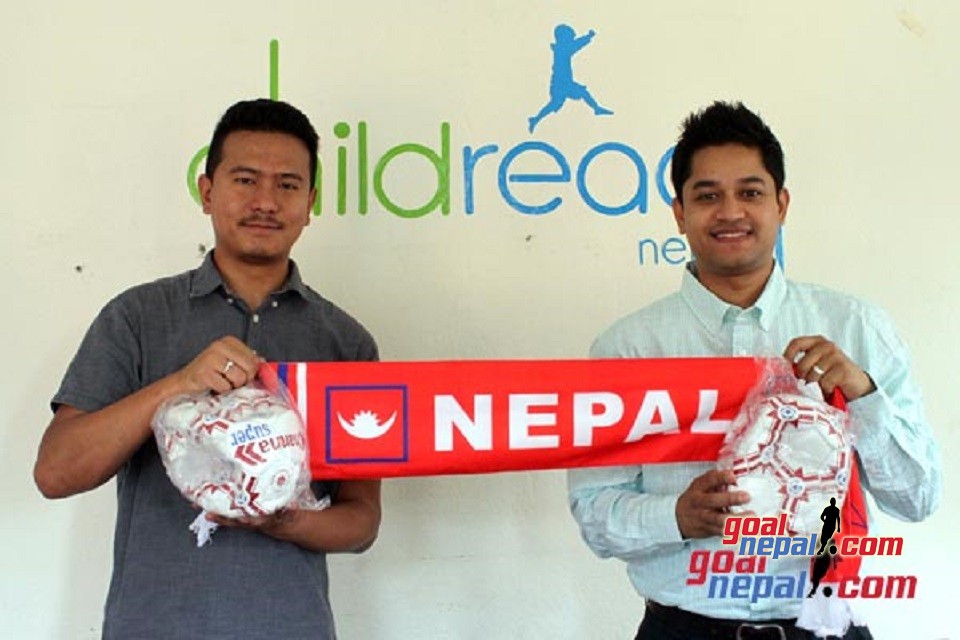 GoalNepal.com is distributing 110 footballs to 12 schools in five earthquake affected districts.

The portal has joined hands with Child Reach Nepal - an international organization, which is working for the welfare of children in Nepal - for the distribution of footballs.
Journalist and GoalNepal.com CEO Bikram Thapa handed over 110 footballs and 50 football scarfs to Prateek Syangdan, program coordinator of Child Reach Nepal amid a program in Kathmandu on Sunday.
"Being a responsible citizen, it is our duty to contribute something to our people who are in need of help. Earlier we donated 70 footballs for earthquake traumatized kids in various camps of Kathmandu. We also donated Rs 1,01,111 to the people of Manekharka through Koshish campaign. GoalNepal supporters have always stood behind us for our programs. For this project, we are supported by Mr. Biplav Gautam. We are thankful to him."
"Government has already started reconstruction process. After a year of deadly earthquake, we decided to make kids/youth happy in those affected areas by distributing footballs and other sporting gears.
"We chose Child Reach because it is doing very good job in those areas. We are grateful to partner with Child Reach for this project", said Thapa.
Program Coordinator of Child Reach, Prateek Syangdan thanked GoalNepal.com for the support.
"We are very thankful to Mr. Thapa and team GoalNepal for providing support to our partner schools. We will distribute footballs and other gears to 12 schools in five districts shortly.", said Syangdan.
CEO Thapa added more support would be provided to other schools in coming days.
Here are the name of the schools:
1. Shree Kuntidanda Higher Secondary School – Makaibari , Dolakha
2. Yangrima School – Kiul , Sidhupalchok
3. Shree Bhim Vidyashram Secondary School – Banskharka, Sindhupalchok
4. Shree Chilaune Secondary School – Thankgpalkot, Sindhupalchok
5. Shree Raithane Higher Secondary School – Thangpalkot , Sindhupalchok
6. Shree Thangpaldhap Higher Secondary School – Thangpaldhap, Sindhupalchok
7. Shree Indreswori Higher Secondary School – Melamchi, Sindhuplachok
8. Shree Vidharthi Niketan Higher Secondary School – Bhaktapur
9. Shree Araniko Higher Secondary School – Bhaktapur
10. Shree Ganesh Higher Secondary School – Bhaktapur
11. Jyotidaya Cooperative School- Lalitpur
12. Shree Roshi Higher Secondary School – Katunje , Kavre