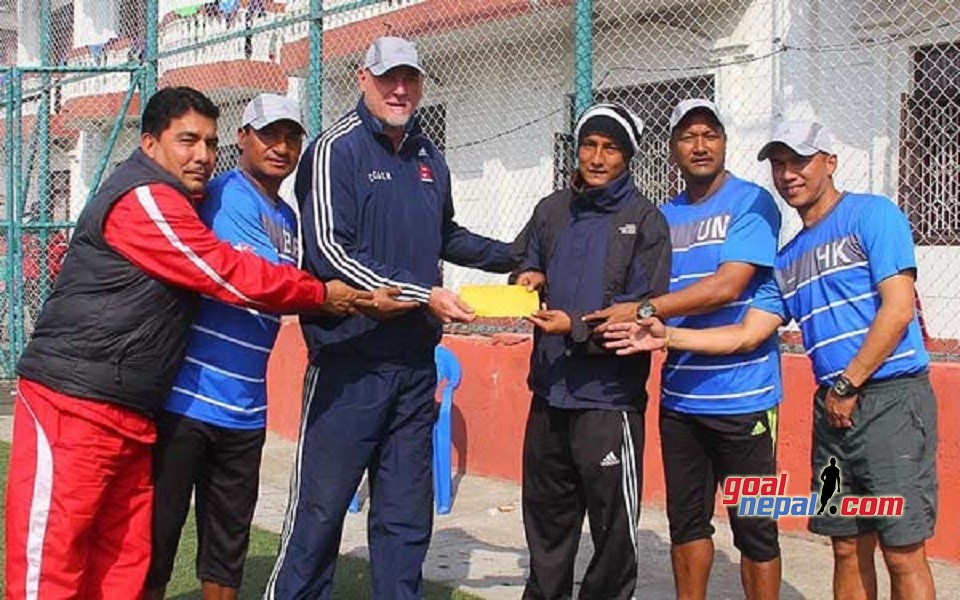 GoalNepal has donated Rs 20,000 to referee Madhav KC, whose house was damaged by deadly earthquake that struck past April.

Nepal head coach Patrick Aussems, Technical Director Dhruba KC, coach trio Hari Khadka, Upendra Man Singh and Bal Gopal Maharajan handed over the money to KC at ANFA Complex Satdobato, Lalitpur on Thursday.
KC is an Army man and was busy in duty line after the disaster.
He thanked fans and GoalNepal and told that he was planning to build a house with the help of money raised from different organizations.
The money was raised by GoalNepal Supporters.
GoalNepal earlier donated Rs 1,11,111 to "Koshish" campaign launched by popular journalist Bijaya Kumar Pandey. It also donated more than 60 original Adidas footballs to the kids traumatized by the quake.
GoalNepal CEO Bikram Thapa has thanked its well wishers for their support.
"We are grateful to our supporters. They always support us in our programs. ANFA, Nepal government should provide more support to the players and others who are suffering. GoalNepal has done a bit in this case", said Thapa.