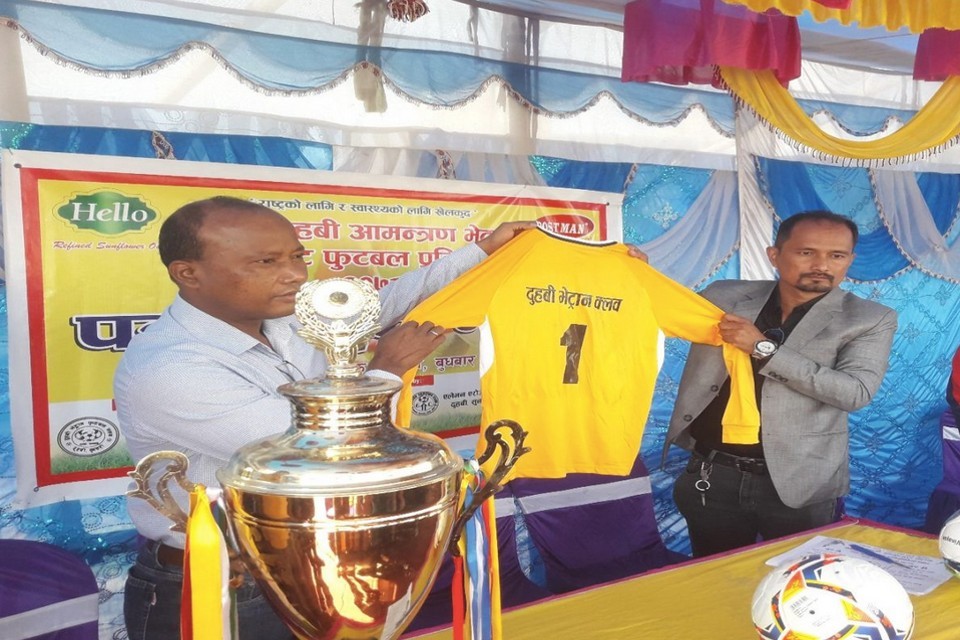 Duhabi Veteran Football Club is organizing Dubahi Invitational Veteran Tournament from November 19, 2021.

The event will be played at Duhabi's Shree Saraswati Ma VI's playground.

Ten teams from Sunsari, Morang, will compete in the competition. The first-place team will receive Rs. 51,000 in cash, as well as a trophy, medals, and certificates, while the second-place team will receive Rs. 31,000 in cash, as well as a trophy, medals, and certificates.

The best player in each match will receive a medal and Rs. 1000 in cash, according to the organizers.

During the press conference, Suram Khan Tharu, the owner of Janata Medical Hall in Duhabi, donated 18 jerseys.

The competition is organized with the goal of contributing more to the development of football in the region by utilizing the experience and skills of football players with a long history in the sport, according to Khadka, chairman of the Veterans Football Club.

Chairman Khadka stated that the tournament is being organized for the first time in honor of the old players of the Duhabi area who have contributed to the growth of the football in Nepal, and that players from ten Morang Sunsari teams over the age of 40 would be directly involved.

Chairman Khadka added that the club has produced several national players over the years, including Dilip Rai, Shankar Thapa, and Sandeep Rai, and that it has helped the club establish its identity in the football world.

The tournament will be a knock-out format. The slogan for the tournament will be "One hour of exercise, golden income for the citizens."

In Group A, there will be 5 teams and in Group B, there will be 5 teams. After the inauguration, the first match of Group A will be played between Dharan Veterans Club and Chaudhary 11 Veterans.