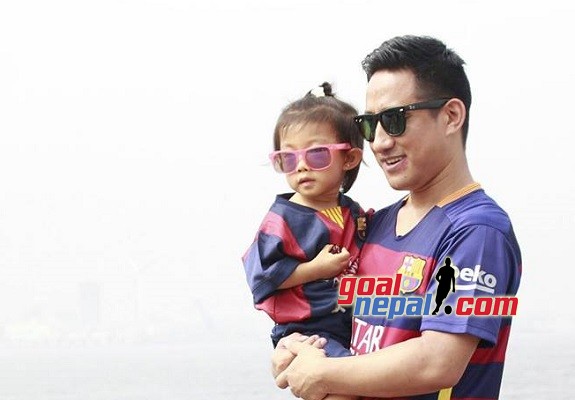 Sanil Chitrakar is from Kathmandu. He now lives in Yokohama, Japan. He is now creating buzz in international arena after drawings of various international stars.
GoalNepal talked to Chitrakar about his profession and his works that had been comended by legenadary Ronaldinho to Bayern Munich club.

1) Hi Sanil. Where are you based at? What inspired you to become an artist? Could you pls describe more about your profession?
I am Nepalese based in Japan. Art was always my favorite hobby since I was a kid. Back then even at the time of load shedding, I used to turn on the candle and keep drawing. After I moved to Japan my life was very busy and had very less time to draw. Until 2015, shortly after having my first baby daughter I had to stay at home to babysit. I started having a lot of free time as i couldn't leave the house. That was when I decided to utilize those free time. I started researching, practicing, learning new tricks, new mediums etc.. Soon my drawing became popular on the internet and people started messaging me for custom artworks. That was when I decided to make it my profession.
2) Do you color football or other category as well. What is so special with football?
I draw all kinds of subject but portrait art is my favorite subject. I have always been drawing portraits since i was kid. I draw any celebrity that i like or the one that i get a lot of request for. Apart from drawing i am also very passionate about football. So, I love every second of it when I am drawing my favorite football players. Specially nowadays where i have thousands of my followers who shares the same passion as me gets happy and excited to see my new drawing of these amazing football icons. Even players like Roberto Firmino, Javier Hernandez (Chicharito), Mats Hummels follows me on my instagram which inspires me to keep drawing more.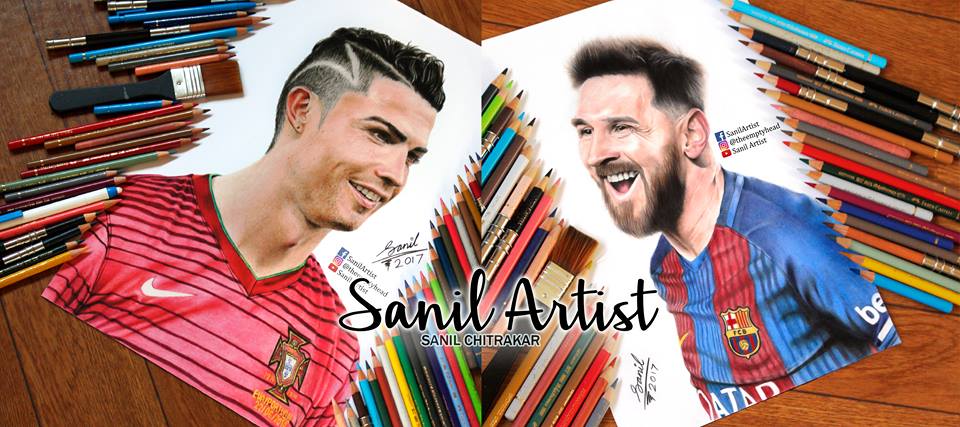 3) After international recognition, any international work that you have worked with or working?
I have worked with Ronaldinho, New Balance, Manchester City, Bleachers Report (UK), Manchester United, Bayern Munich etc. I am also working on some new projects for some of these clubs above but I am not allowed to share the details of the work due to our agreement until my work is officially released by the them.
4) What's your favorite color so far? Which star did you like the most? And which was difficult to color?
I have used many drawing mediums like graphite pencil, colored pencil, charcoal pencil, water color, acrylic paint, ballpoint pen etc. Among them I like colored pencil the most because it is very user friendly and the brand of pencil that i use are highly professional. Its colors does not fade away for more than 80 to 100 years which is perfect for professional use. These pencils are ''Faber Castell Polychromos'' and ''Caran D'ache Luminance''. I am a fan of FCBarcelona and Messi although it was ronaldinho who made me attracted to Barcelona. As a self taught artist i think every medium is difficult until you practice a lot to master it.
5) Have you colored Nepalese football players as well?
Numerous time I have thought about drawing Nepalese football players but sadly things have never worked out for me. I was very close to drawing Nawayug Shrestha after his winning goal against India at south asian game 2016, but I couldn't find a good reference photo of him so I could't make it happen. But I am always trying to find a right occasion to draw one of our nation football players.