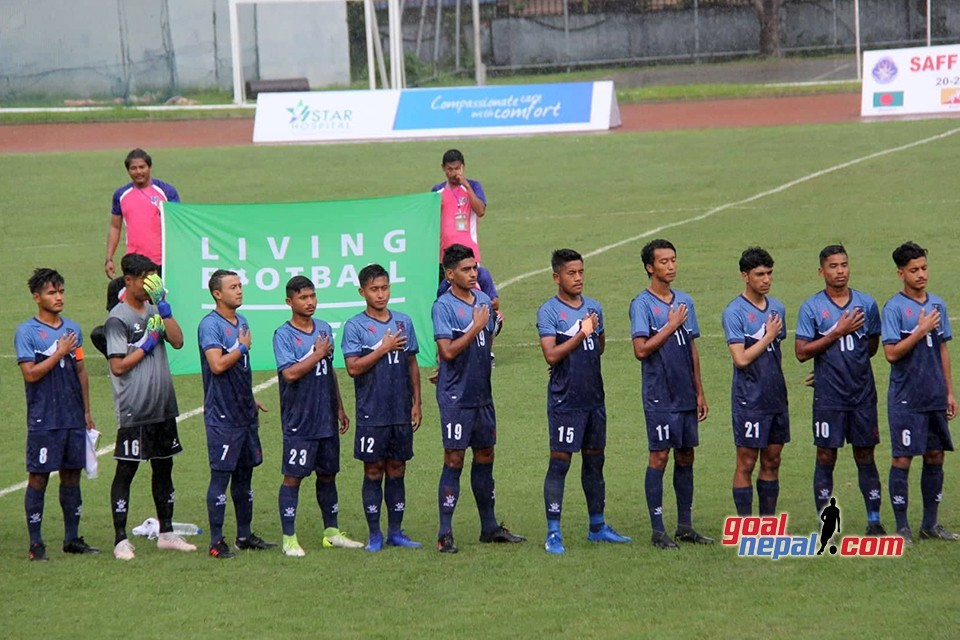 Nepal suffered a stunning 3-0 defeat to Bhutan in SAFF U18 championship 2019.

Everybody thought that script was written for Nepal to win comfortably and head towards semifinal. But story turned out to be different.

So what went wrong?

1. Direct and Predictable
2. Lack of concentration on defending third
3. relying on individual brilliance
4. Lack of creativity
5. Nepali football
1. Direct and predictable
Direct attacking play is very effective when we are counter attacking and playing against very offensive team. But today we were supposed to be a stronger team and keep possession and build up. Whenever we had ball, 2nd or 3rd pass our midfield and defenders tried to pass long to wide players or final pass behind the defender which became very predictable, it seemed like they didn't have any other attacking option in their pocket. And every time we had ball, players were in too much hurry to cross the ball. I would say we didn't even create a clear chance to score goal in the entire match.
2. Lack of concentration on defending third
Football is game of mistakes. Team which does more mistakes definitely loose the match. First Goal that Nepal conceded was defending error, no body was prepared, no double marking. Definitely players can do mistakes but we must have options to cover up the mistakes, thats what team is all about. and Second goal it was just immature defending, the attacker was going wide and shielding the ball it was totally unnecessary to push or tackle, he had speed to recover but i think he just had panic there and conceded a spot kick. Third goal was total lazy defending.
3. Relying on individual Brilliance
Our boys definitely were stronger physically and had much more pace than Bhutanese players. But Bhutanese players maintained their tactical discipline and were technically better. Our team relied on individual to shine which really didn't happen as Bhutanese player were very organized and really quick at closing down space.
4. Lack of Creativity
Right after the kick off, we were very direct, we didn't keep the ball, we were in rush all the time. We didn't show much of attacking option, we had only few tricks in our pocket. If we wanted to break team which was defensively organized and tactically disciplined, we should have build patiently and should have created different ways to penetrate defense to score goals. It was like you were trying to win the war with shot guns, khukuris and raw spirit of do or die attitude.
5. Nepali football
We are very result/Goal oriented society. It's same with Nepali football. We know the problem but we are lazy to take step for solution. Solutions are not readymade they have to be worked upon and it's time consuming. We have always been looking for quick fix which is not sustainable. Infrastructure, Technology, league system - these are far from reach. We should really work on football education. It's visible in every match we played with our home grown coaching staffs. Team look disorganized, tactically very poor. Even when you see our league matches the quality you see is on foreign players. This is clear statement that we need to educate football to our coaches and players.
If we are really thinking to make our football situation better in coming days, I would like to suggest ANFA to invest more in research on youth football development. Because we need to find our system of youth football development. We can't just bring in European youth football development system here as it is not economically fisible and also we have different social system, food, youth growth pattern and culture.

Bal Gopal Sahukhala is a former A Division league player & AFC B licensed coach.
Nepal U19 Preparing For AFC U19 Championship Qualifiers