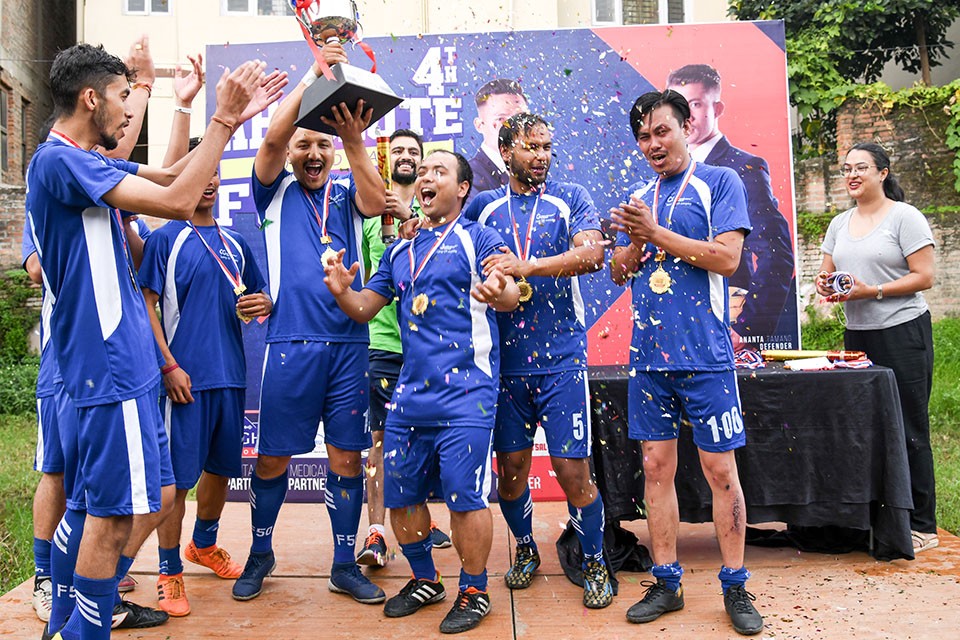 Chaudhary Group has won the title of 4th Absolute Corporate Futsal Tournament 2019 which was organized by Absolute Event P. Ltd.

Chaudhary Group edged past Janata Bank Ltd. by a solitary goal in the finals to lift the trophy on Saturday, 31 August 2019.
Teams that had made it into the quarter-finals were Gorkha Brewery, Buddha Air, Hotel Annapurna, Huawei Technologies, NCell White, Janata Bank, Chaudhary Group and Himalaya Airlines. The winning team Chaudhary Group entered into the finals by beating Huawei Technologies in the semi-finals and Janata Bank Ltd. beat Buddha Air to enter into the finals. Suvash Thapa of Chaudhary Group was adjudged the Player of the Tournament while Janata Bank's Ramesh Maharjan was adjudged the Best Goalkeeper.
Absolute Event P. Ltd. organizes this tournament every year and this year it had attracted participation from 16 corporate teams including NCell, Chaudhary Group, ICTC Group, Call Mobility, Hotel Annapurna, Gorkha Brewery, Huawei, KGH Group, Buddha Air, Nepal Airlines, Himalayan Airlines, Three Monks, Hotel Shambala and Janata Bank Ltd.

The league stage of the tournament was played on 23 and 24 August and all the games of the knockout stages (quarter-finals and above) were played on 31st August.