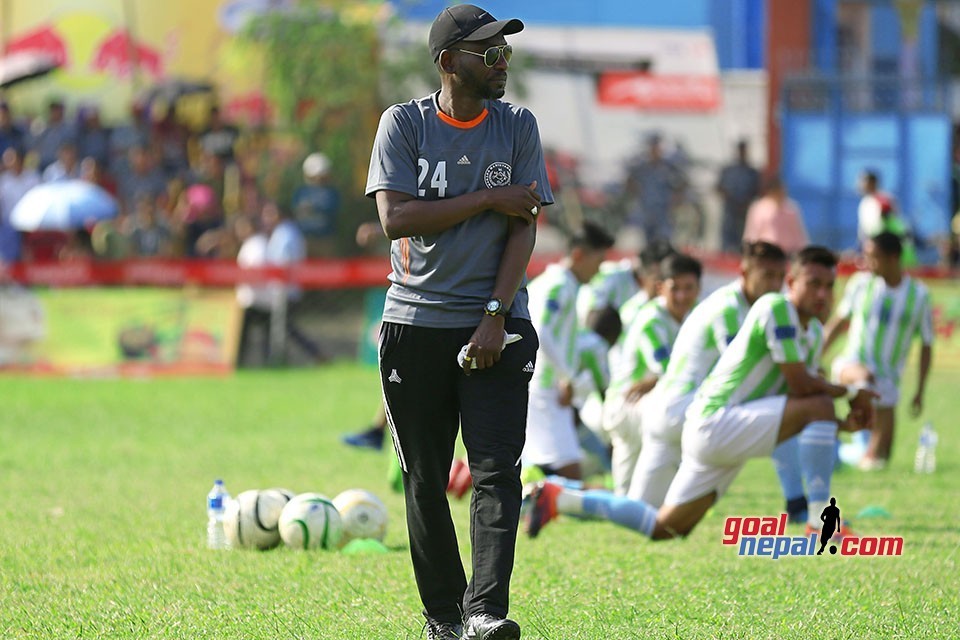 Manang Marshyangdi Club (MMC) won Pulsar Martyr's memorial A Division league with two matches in hand.

In the single round league, MMC collected 33 points from 11 matches, which was sufficient for them to win the league. Second placed Sankata has 25 points.

MMC had appointed Nigerian coach Fuja Tope before Governor's Gold Cup but due to his incomplete paper work he couldn't travel to the team to Sikkim. Coach Suman Shrestha led the team to victory in Gangtok.

In league also, coach Fuja couldn't sit in the team bench due to his incomplete paper work but he guided the team well to success.

GoalNepal caught up with Fuje Tope about the success.

1) How do you feel to win the league title?
Fuja: Winning the Nepal League was what I knew could be achieved. I feel great about it and give God the glory.

2) We have seen you entire season behind the curtain. What was the reason?
Fuja: Due to incomplete paper work, I couldn't sit in the team bench. But we (coach Suman Shrestha & Him) were equally involved in building the team. We wanted to win the title and we did what we targeted.

3) What led MMC to win the trophy?
Fuja: Unity, team work, descipline which is key. Hard work and determination led us to success. And opening up to modern style of play led us to winning the trophy.

4) How is the standard of Nepalese football & what should be done to improve?
Fuja: Nepali football suffered some set backs in the past which has pegged back the development of football in the country. But I can see that Anfa is working hard, trying to put every leg in the right holes. For development, much attention needs to be given to the grassroots. Quality infrastructures needs to be provided. More corporate sponsors should get involved. I am sure Nepali football will prosper.
5) What next for you? Are you going to continue as a coach of MMC?
Fuja:Well, its all up to the management of the club to determine my continuity.

6) Thanks for talking to us.
Fuja: My pleasure.
MMC Vs Tribhuwan Army FC - MATCH HIGHLIGHTS