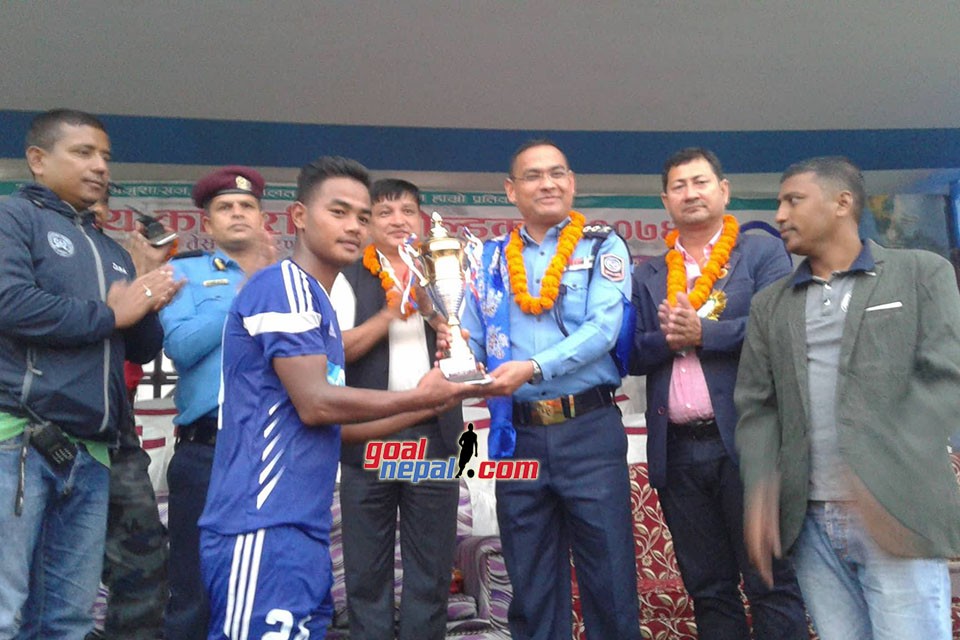 3rd Mechi Netralaya Kakarvitta Gold Cup kicked off at Kakarvitta high school ground, Kakarvitta, Jhapa. on Wednesday.

Nepal Police Club hammered Subash Chandra Bose Club, Kolkata 4-0 in the opener to enter semifinals.
Tirtha Rana scored a brace while Bhola Silwal and Tej Tamang added goal each for Cops' victory.
Two goal hero Tirtha Rana was declared the man of the match.
NPC Starting XI: Roshan Khadka(GK), Dinesh Rajbanshi, Hemant Shrestha, Ajit Bhandari, Maan Bahadur Pariyar, Bhola Silwal, Ram Wajee, Dinesh Gurung, Ravi Paswan, Tirtha Rana, Jumanu Rai(C).
Subash Chandra Boys First XI: Subhadu Ghose(GK), Souviek Tipati, Manjit Das, Bikash Mandi, Parash Kora, Mithun Bouri, Salayadun Mirdha, Santosh Hemram, Avijit Das(C), Anil Kisku, Jabin Aashas.
Nepal APF Club will meet Agni Rupandehi Xi tomorrow in pre-quarterfinal match.
NPC will play first semifinal match against the winner of (Far Western XI Vs Jhapa XI) Vs Nepal Army Club on November 26.
Kakarvitta Football Training Centre is organizing the knock out the championship, which has a winning purse of Rs 8 lakhs. Runners up team will get Rs 4 lakhs.
JALTHAL FC JHAPA ENTERS SFs 2nd BHAGIMAN MEMORIAL CUP