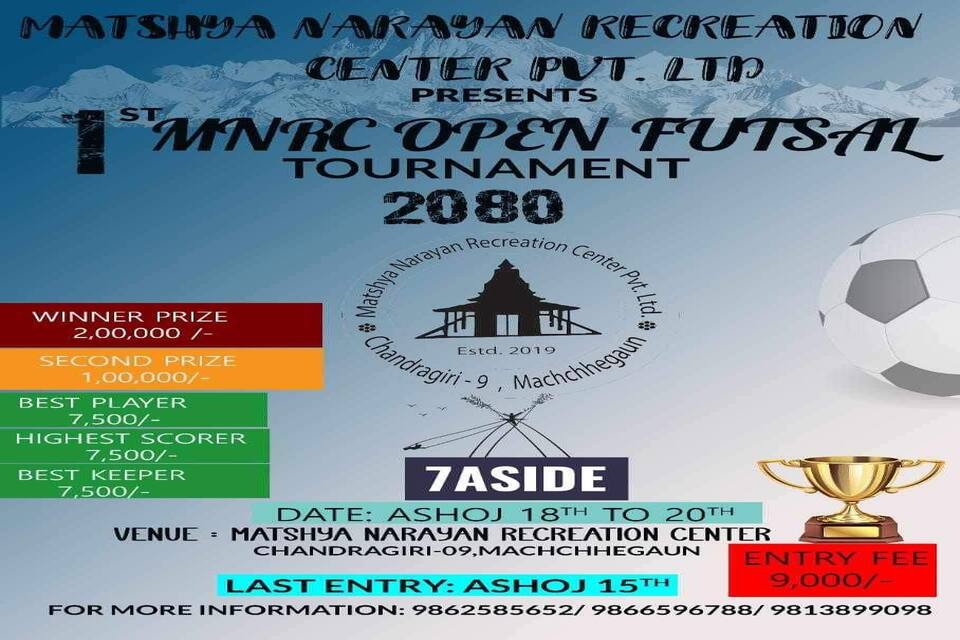 The stage is set for an exhilarating showcase of futsal talent as the Matshya Narayan Recreational Centre (MNRC) gears up to host the first-ever MNRC Open Futsal Championship 2080.

This eagerly awaited tournament is poised to become a highlight on the futsal calendar, attracting teams and fans alike to participate in three days of intense competition.

The MNRC, renowned for its commitment to sports and recreation, is the driving force behind this event, which promises to be a thrilling affair.

With a total prize purse of NRs 2 lakh, the stakes are high, making it an enticing prospect for futsal enthusiasts. The runners-up will not be left empty-handed, as they will receive a significant reward of NRs 1 lakh.

To ensure the quality and competitiveness of the tournament, teams are required to pay an entry fee of NRs 9000, a small investment for the chance to compete for the prestigious championship title.

Adding to the excitement is GoalNepal, the official web partner for the event. This partnership ensures that fans worldwide will have access to live updates, match summaries, and highlights, allowing them to stay engaged with the tournament's progress.

Individual excellence will also be recognized, with the best player, highest goal scorer, and best goalkeeper each receiving NRs 7500 in recognition of their outstanding contributions to the competition.

As Ashoj 18-20 approaches, all eyes will be on the MNRC Open Futsal Championship 2080, which promises to provide a platform for futsal talent to shine and for fans to witness exciting matches.