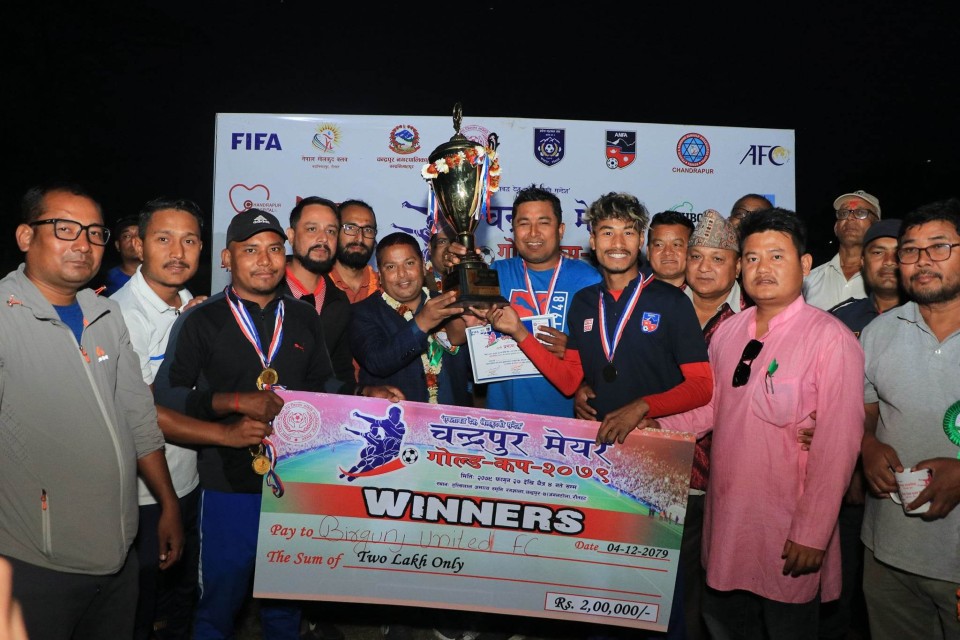 Birgunj United has clinched the title of Chandrapur mayor gold cup football tournament in Rautahat.

Birgunj United defeated Bengkhadi yuwa club 3-0 in the final match played at Chapur on Saturday.

Kripa Chaudhary scored a brace while Bibek Chaudhary scored another for the winners.

The champions received NRs 2 lakh while runners up team got NRs 1 lakh.

Man of the match: Kripa Chaudhary (BUC)5K
BEST GK: PRAMIJAYA GACCHHADAR(BUC)
BEST DEFENCE:SISAS THAPA(BUC)
BEST MIDFIELD: ANISH CHAUDHARY(BUC)
BEST STRIKER:KRIPA CHAUDHARY(BUC)
BEST COACH:SULAV JUNG RANA (BUC). All of them received NRs 10,000 cash each.

MAN OF THE SERIS : NIR BAHADUR ALE(BENKHADI 25K).

Rautahat DFA organized the event.