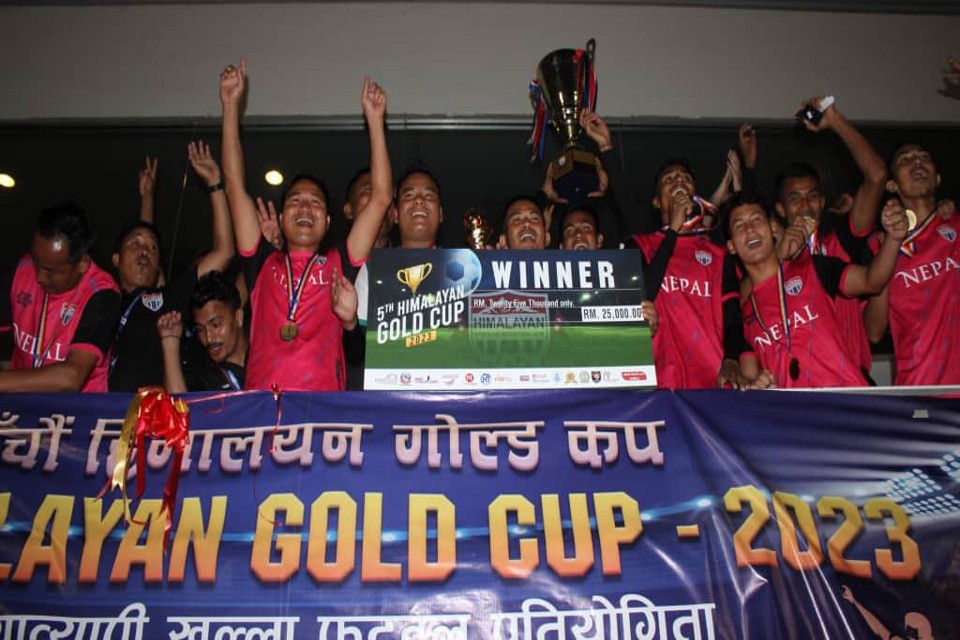 Kathmandu (GoalNepal) - Hosts Himalayan FC fifth Himalayan Gold Cup 2023, organized by the Himalayan Football Club. It was held from Magh 22 to 24 at the Panasonic Stadium in Shah Alam, Malaysia.
19 Nepali football clubs of Malaysia participated in this Gold Cup. Himalayan Football Club won the title with a 3-0 win over Riya Sumnima Football Club in the final. The winner Himalayan Football Club was awarded a 25,000 Malaysian Ringgit cash prize, trophy and medals while the runners-up, Riya Sumnima Football Club, was awarded a 10,000 cash prize, trophy and medal. Besides, Bishal Rai of Rhea Sumnima Football Club became the best goalkeeper, Captain Rajkumar Kumal of Himalayan Football Club was declared the best player and Rajesh Shrestha finished the tournament asthe top scorer.
Himalayan Football Club defeated Gorkha Football Club in the pre-quarterfinals, Dragon Football Club in the quarter-finals and JB United Football Club in the semi-finals 3-0 and reached the final. Similarly, Ria Sumnima Football Club defeated NRT Football Club in the knockout and Pathibhara Football Club in the quarter-finals and entered the finals with a 4-2 victory against NFC Penang in the semi-finals.
The chief guest of the opening ceremony, Dilliraj Poudel, Ambassador of the Nepali Embassy in Malaysia, said that the Himalayan Gold Cup has helped the physical and mental health and creativity of all the Nepalis in Malaysia, as well as harmony and unity. Saying that the embassy will always support this kind of positive and creative work, he congratulated and thanked all the participants and organizers.
The opening match of the Himalayan Gold Cup 2023 was a friendly match between Nepali Embassy Malaysia and Riya IME Remittance Team. In this match, Ria IME won by 3-2.
This Gold Cup was presented by Across Travel & Tour, Ria IME MiniTransfer, InstaPay e-Wallet, Helios Security Service, MT Security Service, J&E Advance, Trust Nepal, Chairman of Non-Resident Nepali Association Malaysia Binod Thapa, Chairman of Pravasi Nepali Manch Malaysia. Gurung, General Secretary Dayaram Kumal, Foreign Employment Traders Association Malaysia President Kamal Gautam sponsored.
Since Himalayan Football Club is a well-known football club in Nepal, Himalayan Football Club President Santosh Karki expressed his gratitude to the supporters, sponsors, artists and media workers for completing the tournament in an excellent manner with the help of all the Nepalis in Malaysia. Also, Chairman Karki informed that the sixth Himalayan Gold Cup will be organized in the coming Chinese New Year.