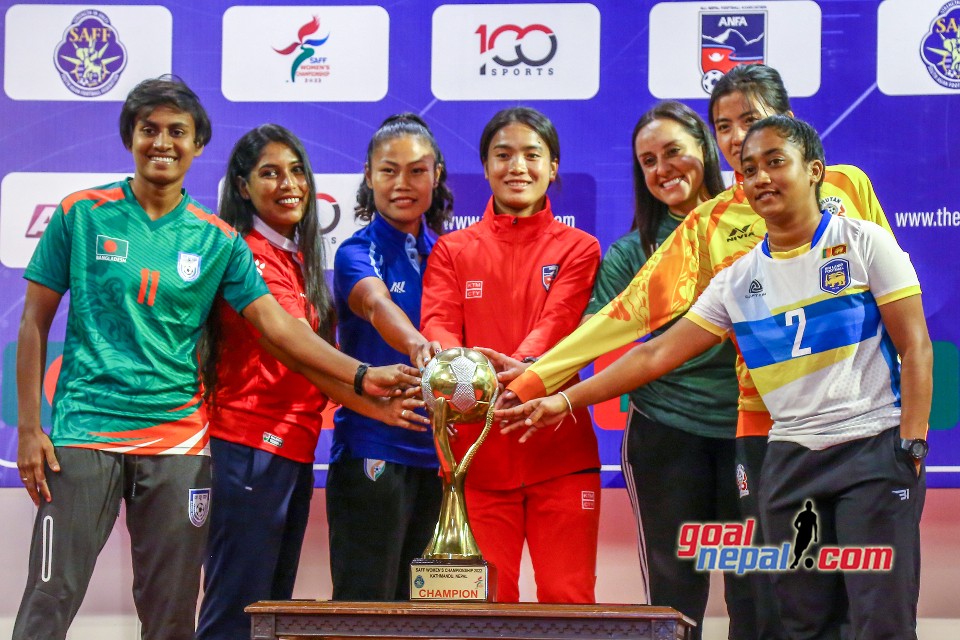 The stage is all set for the 6th edition of the South Asian Federation Football Women's Championship kickoff in Kathmandu, Tuesday. The championship aimed at promoting and developing women's football in South Asia started in 2010 in Bangladesh.
After a gap of three years,the tournament is back. India, Nepal, Bhutan, Maldives, Sri Lanka, Bangladesh and Pakistan are competing for the region's biggest prize.
In retrospect,India has overwhelmingly dominated the tournament, winning every edition. They have been unshakable and unbeatable so far in the competition. Once again, they are the firm favorites to win the title for a record sixth time and keep their domination intact. They are a formidable outfit with a mix of highly experienced and talented emerging youth players.
They boast a team consisting of Soumya Guguloth and Grace Dangmei who play for Dinamo Zagreb, Croatia and FC Nasaf Qarshi, Uzbekistan, respectively.
Surprisingly, upcoming duo Manisha Kalyan(Apollon Ladies FC, Cyprus) and Jyoti Chouhan(Dinamo Zagreb, Croatia) have been playing club football abroad, and are sidelined for the tournament. Given their strengths, quality of players and experience, they should win the tournament for the sixth time. That said, they have to be at their best to avoid a major setback. They have everything to lose.
Hosts Nepal has been the second-best team and has played second fiddle to India. Agonizingly they have been runners-up four times and are still in the hunt for their maiden success. The million-dollar question is, can they end India's stranglehold on the trophy?
Head Coach Kumar Thapa is cautiously optimistic about his team's chances. He made it abundantly clear that they will require a herculean effort, coupled with consistent performance, to beat the odds. "I have done my best to prepare the team for the tournament. With more time, resources and quality warm-up matches, the preparation could have been much better", he said.
Unquestionably Nepal can pose a threat to India if they can get their act together and play consistently, confidently and aggressively throughout the competition. The last time the two teams met was in the final of the 5th edition of the competition held in Biratnagar, won by India 3-1.
For Team Nepal, this is yet another chance to settle scores against their arch-rival. They must capitalize on home advantage, show drive for success, remain focused, and put in a percent effort. More importantly, they have to prove themselves collectively and individually. They must keep in mind that there is absolutely no room for mediocrity and sloppy performance from start to finish. Furthermore, they have to be mentally and physically prepared to face opponents.
Ace striker Sabitra Bhandari and attacking midfielder Anita Basnet are expected to play pivotal roles for Nepal's title hopes. Both play for Indian football clubs in the Indian Women's League for their respective clubs.
Bhandari, who is Nepal's highest goal scorer (35 goals), plays for Gokulam Kerala FC, Calicut, Kerala. She has already made an impact scoring 15 goals. On the other hand, youngster Basnet plays for Sethu FC, Madurai, Tamil Nadu and has already proven herself to be quite a player.
Nepal takes on a vastly improved Bhutan in the opener. They must get off to a winning start to set an early pace and momentum. They cannot afford to undermine the opponent. Bhutan carries the underdog status but has the potential to upset the apple cart. It is a very energetic and youthful side raring to go and prove themselves. Their recent victory over Tribhuvan Club in a friendly does serve as a warning to opponents.
Bangladesh could be the dark horse of the tournament. Their best result has been a second-place finish behind India in the fourth edition in 2016. The team is loaded with talent and are capable of springing surprises. They are the defending champions of the South Asian Federation Football Championship Under-19. Last year they successfully defended the title beating India by a solitary goal.
Pakistan might not be a force to reckon with but are determined to put in a solid performance. They have taken the championship seriously and have had good preparations as well. They have solidified their squad by including the United Arab Emirates and the United Kingdom-based players.
Sri Lanka and the Maldives are certainly not pushovers. They are improved sides and do have the potential to turn things around.
Women's football in South Asia continues to lag in terms of development, performance and results. The sport in the region is in a sorry state and must change to catch up with the world.
By Sushil Thapa, Fairfax, VA