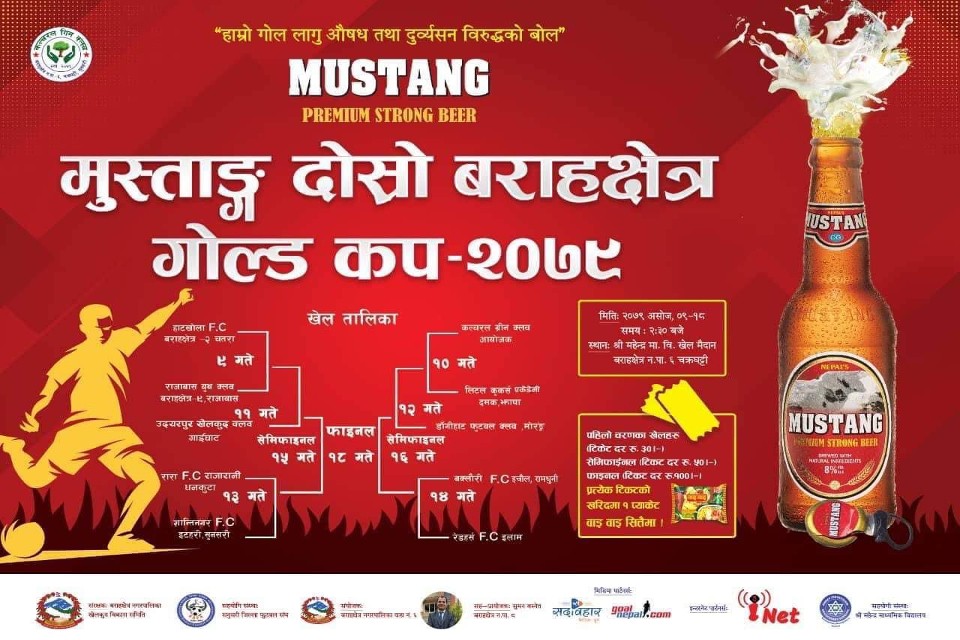 Mustang Second Barahkshetra Gold Cup Knockout Football Tournament is going to be organized by Cultural Green Club, Sunsari from Ashoj 9.

The tournament's schedule, which will start with the original slogan of 'Our goal, speech against drugs and addiction,' has also been announced. In the tournament's opening match, Hatkhola FC and Rajawas Youth Club will face each other.

All the tournament games, which will last till Ashoj 18th, will be held at Sri Mahendra Ma.Vi's ground located in Barah Kshetra-6, Chakraghatti. The competition's winner, which is sponsored by Mustang Premier Strong Beer, will receive a cash prize of Rs. 1,50,000, while the runners-up will receive Rs. 1,00,000.

Barahkshetra Municipality Ward No. 6 will organize the competition under the patronage of the Barahkshetra Municipality Sports Development Committee. GoalNepal will broadcast the tournament live in which a total of 10 teams will participate.