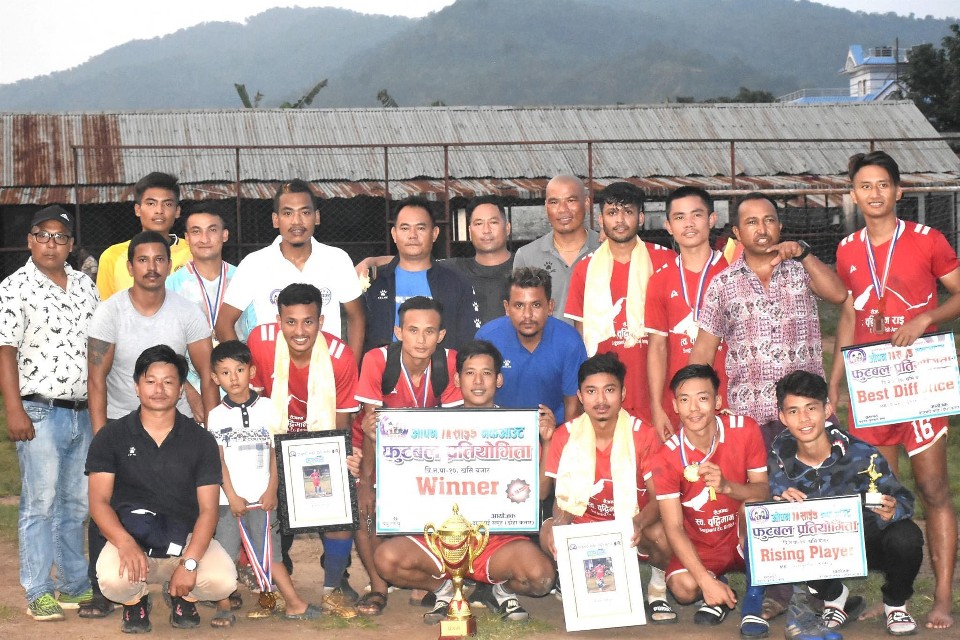 Fusion FC 'B' have lifted the title of the Open 7A-side Knockout Football Tournament in Gaighat, Udaypur. Fusion defeated Gaighat FC 2-0 in the final to lift the title.

Sunil Khadka and Sudeep Shrestha scored a goal each for Fusion while Santosh Dahal scored one for Gaighat. Tipson Rai of Fusion was named the player of the match.

Fusion received Rs. 20,000 along with the title win while the runners-up Gaighat Rs. 10,000.

Fusion B's Bijay Sewa was named the best goalkeeper of the tournament. Similarly, Fusion B's Prabin Shrestha and Shishit Lekhi were named the best defender and best midfielder, respectively. Gaighat's Diwas Shrestha was awarded the best striker award, Fusion A's Duryodhan Magar was named the rising player.

Saroj Raut of Fusion B finished the tournament as the highest goalscorer. Fusion B's Sunil Khadka was named the player of the tournament. All of them were awarded in the award ceremony.

Fusion FC and Brothers Group jointly organized the tournament in coordination with Udaypur District Football Association.
6th Rumpum Udayapur Gold Cup: Gorkha Boys Rupandehi Enters Final