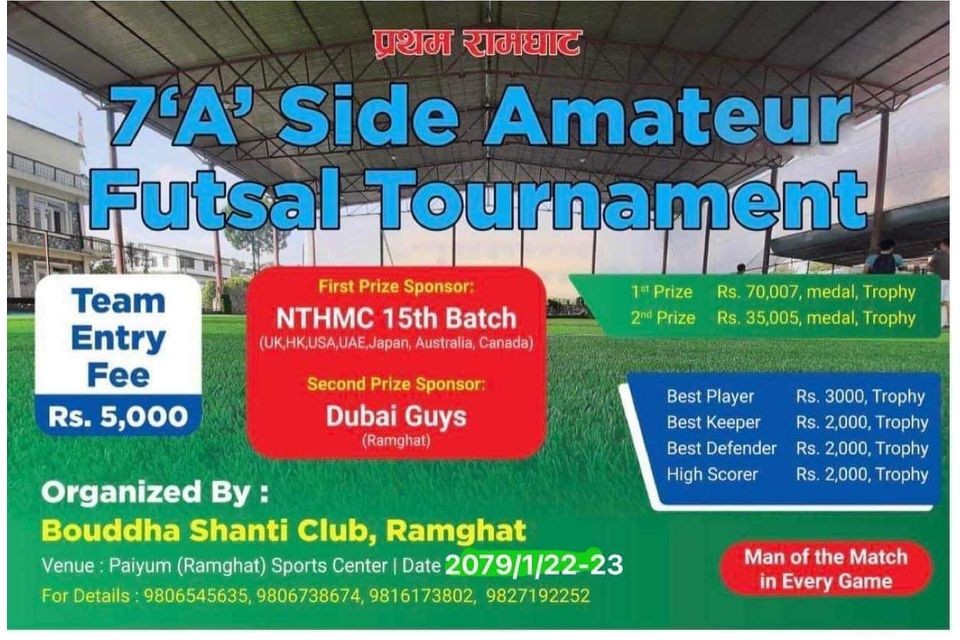 First Ramghat 7A Side Amateur Futsal Tournament organized by Bouddha Shanti Club ramghat is going to be held from Baishak 22nd to 23rd (May 5-6) in Paiyum (Ramghat) Sports Center, Pokhara.
The winner of the tournament will receive Rs. 70,007 with a trophy, certificates and medals whereas runners-up will get Rs. 35,005 with a trophy, certificates and medals.
The first prize is sponsored by NTHMC 15th batch (UK, HongKong, USA, UAE, Japan, Australia, Canada) and second prize is sponsored by Dubai Guys, Ramghat.
The best player will get Rs. 3,000 with a certificate and best goalkeeper, defender and highest scorer will receive Rs. 2,000 with a certificate each.
Chairperson of Bouddha Shanti Club Roshan Gurung told that there will be also be prizes for the man of the match in every game.
POKHARA STADIUM - 10% WORK IS STILL LEFT