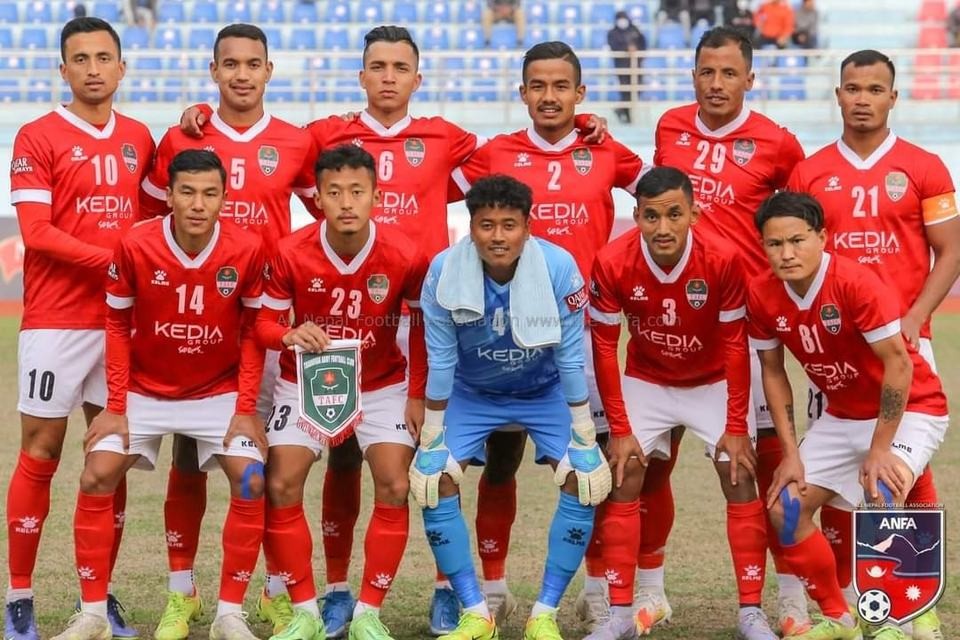 Tribhuwan Army FC secure second place in the Martyr's Memorial A Division League campaign as they restrict Manang Marshyangdi Club to a 1-1 draw at the Dasharath Stadium today.

In a match where both teams were looking to finish second on the league table, it was Manang Marshyangdi who took the lead in the 45th minute. Skipper Anjan Bista opened the scoring for Manang.

Army's goal came in the second half. A Santosh Tamang freekick was not gathered by Ashok Baral who punched the ball into the back of his own defender Franklin Kyoutte for an own goal.

And that goal was enough for Army men to finish second. Army gathered 23 points from the 13 matches to finish second and remain undefeated in the league as well. Manang Marshyangdi meanwhile have finished fifth with 21 points.

NRT Defeat Police To Finish Third

An extraordinary hat-trick from New Road Team's Messouke Oloumou helped them to finish third this season.

Nepal Police Club took the lead through Ravi Paswan in the 12th minute of the match. But it was Messouke who shined today at the ANFA Complex. Messouke scored three goals in the 47th, 62nd and 83rd minutes of the match to help his team finish third on the table. Messouke's third goal was a brilliant solo goal where he defeated six Police defenders to go on and put the ball in the back of the net.

NRT gathered 23 points and narrowly finish third, equal on points with Army due to an inferior head-to-head record. Nepal Police Club finish 11th with 13 points.
7th Rajarshi Janak Cup: NNJYC Simara Vs NPC