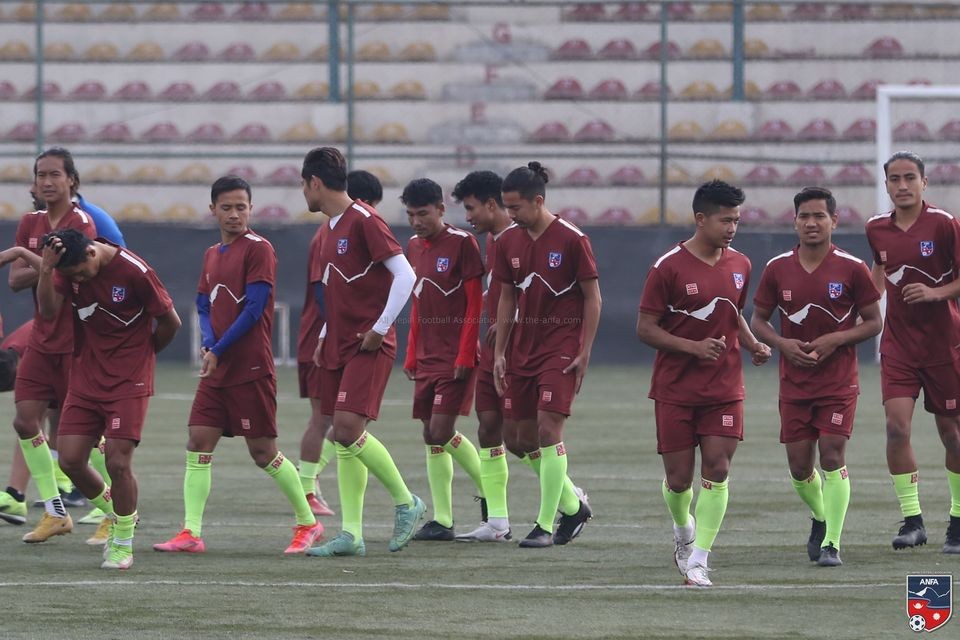 Nepal will take on Mauritius today in the first friendly of two at the Dasharath Stadium in Kathmandu. The match will kick off at 4:45 PM.
Nepal are ranked 169th in the world and Mauritius are three places down in 172.
Nepal coach Abdullah Almutairi has chosen two separate squads for the two friendlies and has included some new names in the squad for the first friendly. Tikendra Thapa, Sudip Gurung, Akash Budha Magar and Krittish Ratna Chhunju have been called up for the first time. Bimal Gharti Magar, Jagjeet Shrestha, Devendra Tamang are back into the squad after lengthy absences.
With COVID restrictions affecting selections, Mauritius head coach Tony Francois has opted to travel with the players playing their professional football in Mauritius. Mauritius are in preparation for the AFCON 2023 qualifiers preliminary round.
ANFA has already stated that only one-third of the capacity at Dasharath Stadium is open for the spectators.
Squads:

Nepal: Kiran Kumar Limbu(GK), Deep Karki (GK), Tikendra Thapa (GK), Gautam Shrestha, Dinesh Rajbanshi, Devendra Tamang, Suman Aryal, Suraj Jeu Thakuri, Sudip Gurung, Suman Lama, Tej Tamang, Bishal Rai, Sujal Shrestha, Manish Dangi, Anjan Bista, Aashish Lama, Darshan Gurung, Bimal Gharti Magar, Sunil Bal, Nitin Thapa, Aakash Buda Magar, Kritish Ratna Chhunju, Jagjeet Shrestha

Mauritius: Kevin Jean-Louis, Loïc Michel, Walter St Martin, Rodney Castel, Vashist Calcutta, Stephane Gentil, Nathan Spéville, Nando Jackson, Damien Balisson, Kerlson Agathe, Fabrice Brasse, Adrien François, Adrien Botlar, Pascal Colin, Mervyn Jocelyn , Hans Patate, Stephan Nabab, Owen Foolchand, Nilesh Rasdarising, Linsley Brasse , Kengy Saramandif, Ashley Nazira, Andy Sophie
Nepal Vs Mauritius 2nd Friendly Match Highlights