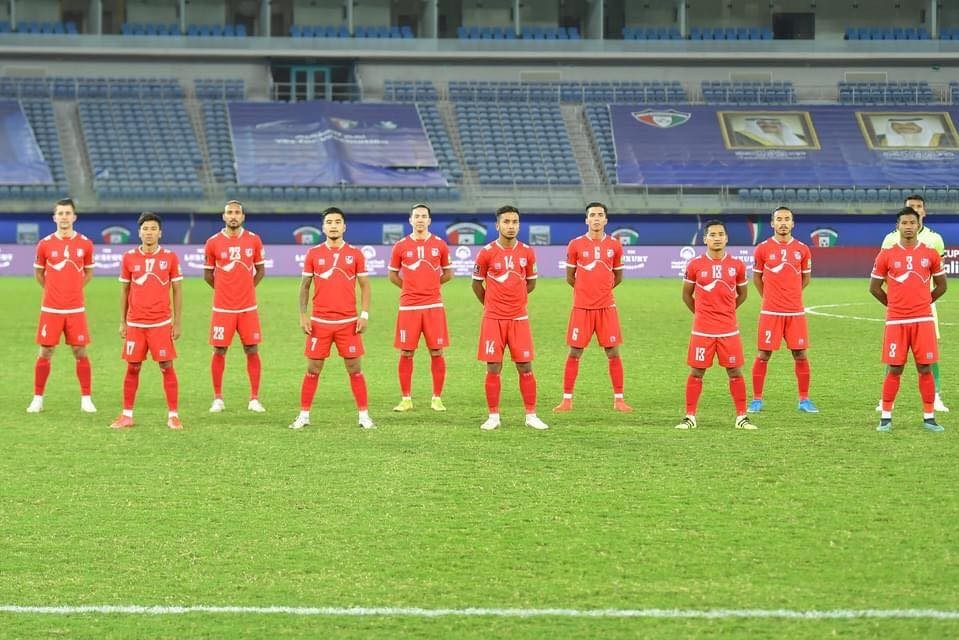 Nepal, already out of the 2022 World Cup Qualifiers, plays Australia in the final match in Kuwait City, Kuwait.

Nepal's World Cup campaign came to an end after their 3-0 loss to Jordan.The setback was not a surprise against a superior and dominant opposition that controlled proceedings throughout. All in all, it was a spirited performance.They played hard,and they did everything they were supposed to do.At least they succeeded in restricting the opponent to a few goals.

The physical domination and high press style of football proved too much for the youthful Nepali outfit at the end of the day. Having played against Iraq and Jordan, two heavyweights of Asian Football,it has been a great learning experience, and an opportunity to grow professionally.It is hoped that the young footballers take valuable lessons.

Nepal, still in the race for a spot in the third round of the Asian Qualifiers for the 2023 Asian Cup in China have an uphill task against mighty Australia. They cannot afford to meekly surrender or lose big. Should it come down to goal difference , it can prove costly.

Apparently Nepal takes the pitch as overwhelming underdogs against Australia.The odds are heavily stacked against them.They are up against a high-caliber opponent who have qualified for the World Cup five times.

Since 2006 the Aussies have played in every World Cup and already assured themselves a place in the third round of the ongoing 2022 World Cup Qualifiers after beating Chinese Taipei 5-1.

The youthful Nepali outfit have a massive challenge on hand. It will be a herculean effort for them to contain the opponent and make the game close and competitive. It may be recalled that in the first game played in Canberra, Australia comprehensively outplayed Nepal in every department and recorded an easy 5-0 win.

The Australian squad studded with overseas professionals have delivered dominant performance in the qualifiers.They are expected to make short work of rank outsider Nepal.
They are technically and physically a well drilled side with plenty of experience,skills,pace,energy, aggression and appetite for goals.

Interestingly, prior to resumption of the qualifiers seven young uncapped players were included in the team without two superstars Tom Rogic and Aaron Mooy. Against Nepal they are determined to be more efficient and clinical offensively and conclude round two qualifiers on a high note.
The Aussies may not have glaring weaknesses,but Nepal must not get bogged down. An effective game plan and how effectively it is executed will largely determine their overall performance.

Team Nepal must regroup, get their confidence back , reinvent and recharge themselves for a fresh start. They need to raise the bar for themselves,put in extra effort ,generate more energy and production. They have to go into the match with the right mindset, guns blazing,determined to give the opponent a run for their money.They need to develop intensity for focus and positive attitude throughout play.

Like in the game against Jordan, I expect the coach to set up a similar defensive strategy to stop the opposition from scoring goals effortlessly. Nepal requires a rock solid performance, individually and collectively.The defense should be in a position to play sound technical and tactical game and defend with utmost tenacity and
confidence.

The offense and midfielders will have to throw everything at the opponent and play with a sense of urgency,making their presence felt in the match. The challenge against the Aussies is daunting, to say the least. That said, it is also a chance for Nepal to prove themselves.

By Sushil Thapa, Fairfax, VA, USA