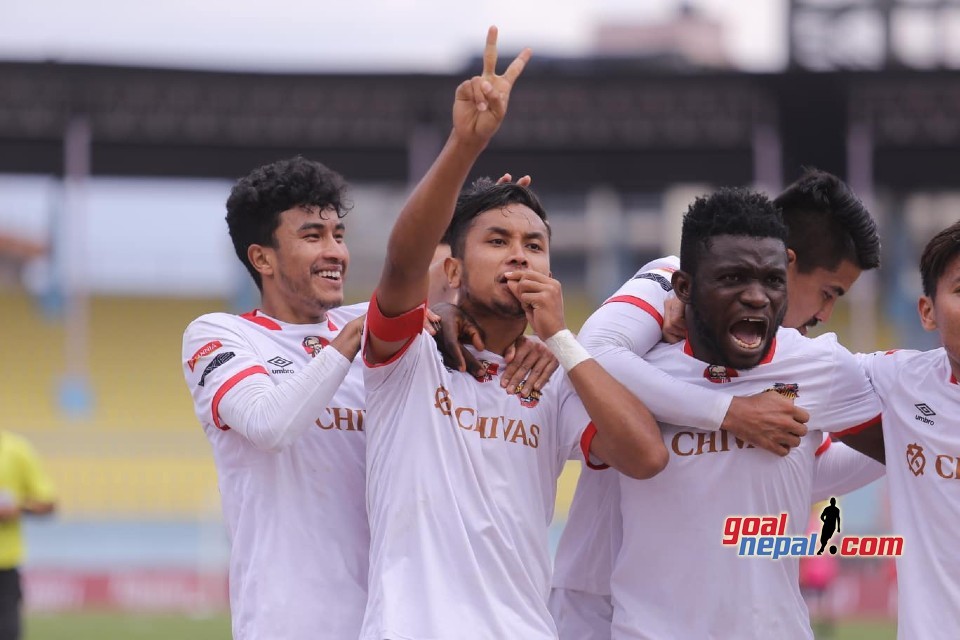 Lalitpur City FC and Dhangadi FC face off in the elimination round of the Nepal Super League at Dashrath stadium Wednesday.

The winner of the match will take on Kathmandu Rayzrs FC for a place in the final. Dhangadhi FC are through to the final after overcoming Kathmandu Rayzrs FC 2-1 in overtime.

The showdown between Butwal Lumbini FC and Lalitpur City FC who have a similar play style should turn out to be another day of absorbing and thrilling football. Fresh off two successive wins, Lalitpur City FC confidence level is at an all time high in the competition.

Indeed they gallantly fought back from the brink of elimination to stay in the competition.The decimation of Biratnagar City FC in a must win game speaks volumes of their potential. They are fully aware that the ultimate prize is within their striking range. Now they feel the urgency to win back-to- back matches to make it three in a row as they gear up for the all important tie against Butwal Lumbini FC.

They hope to ride the momentum and get the job done. The key is to stay focused and committed, build a winning combination and work towards reaching the goal. In the last meeting between the two, Lalitpur FC won by a solitary goal.Therefore,they have a psychological edge over the opposition, but it doesn't really matter if they do not perform to
desired expectations.

Interim coach Raju Tamang has done a fantastic job reversing the team's fortunes. His team selection, tactical approach and game plan have paid off so far. He has managed to put the team back on the track.

He has instilled the much needed confidence in the team.He knows every game is different and has to be played with the same or even higher level of intensity,determination, confidence,consistency and team work,

Lalitpur City FC will need another superb, well organized, consistent performance to seal a decisive victory over Butwal Lumbini FC.

The attacking trio of Nurlan Novruzob,Vilim Posinkovic must show more teeth,depth,cohesion and penetration to get the better of two highlighly experienced defenders Biraj Maharjan and Rabin Shrestha.

Also they have to do a much better job when it comes to clinical finish and translating scoring opportunities into goals.

The man in form Anjan Bista will be the key player for the team .He was instrumental in his team's last two wins. He will be looking forward to his third straight super player of the match award.

With that said,he will need good support from a talented pool of midfielders Dona Thapa,Bimal Rana, Mikchhen Tamang and Arik Bista who have to be on top of their game.

At times the back line led by Kamal Shrestha has struggled for coordination and positional discipline.They must step up and defend sensibly. On the other side of the coin,Butwal Lumbini FC looks determined to strike back with a
vengeance against Lalitpur City FC.

They have had a fairly good run in the competition so far.They have played steady,cautious,compact and intelligent football all along.

Unlike their competitors,they are not a high scoring side. More or less,they have struggled to find goals. The failure to score goals almost cost them a playoff spot.

The goal shy foursome Abhisek Rijal,Aashish Lama, Suman Lama and Dipesh Ale Magar have to play hearts out and make their presence felt in offense in a big way to put their team in a commanding position.

Lack of goals and a good finish should be a concern for Head Coach Sanjog Shrestha. Two exciting prospects Laxman Ruchal and Sesehang Angdembe alongside William Opoku makes midfield formidable.They have to perform their duties to a very high standard to dominate midfield play.

Veteran Biraj Maharjan, Rabin Shrestha and Kareem Nurain have provided depth and solidity to defense and defended well.They are calm, cool and collected .

Just like Lalitpur City FC, Butwal Lumbini FC were in a must-win game against Dhangadhi to keep their hopes alive for the playoffs.They did it!
They are rejuvenated and raring to go against Lalitpur City FC. Both teams have a fifty-fifty chance of winning. I see an exciting duel brewing on the horizon.

By Sushil Thapa ,Fairfax,VA, USA