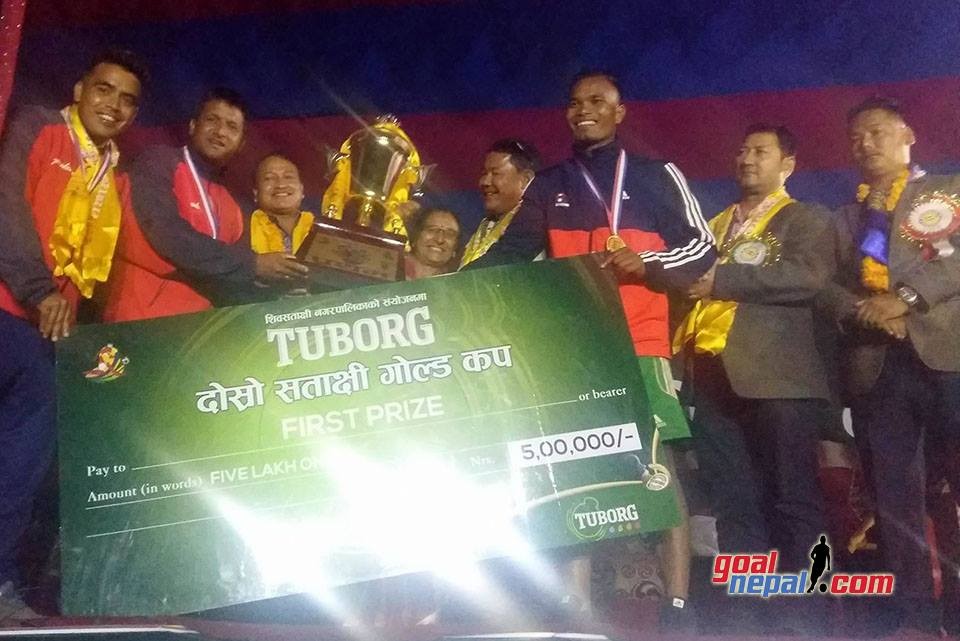 Nepal Army defeated MMC 2-1 to win the title of 2nd Satasi gold cup football tournament at Jhiljile, Jhapa.

This is how the match went on:
1' Peeeeep!
5' MMC 0 Nepal Army 0.
19' GOAL..GOAL.GOAL! Army takes a lead. Guess who? Ronaldo fan, George Prince Karki !! Brilliant FREE KICK !! Army opens fire RAT--TA---TAAAA!
45' Oh hoo, Nepali Army are on fire. GOAL.GOAL.GOAL! NAWAYUG SHRESTHA doubles the lead. MMC players are protesting against the referee saying ball enters the post through torn net 😲😲. Match is stopped now. Players look angry with the referee.
MMC have stopped the play. They said they aren't playing the game.
Match resumes after one hour.
46' Second half starts..
61' GOAL! ANIL GURUNG scores through header. Nepal Army 2 MMC 1.
Note: second half is of 40 minutes.
80' FULL TIME. Nepal Army wins the match 2-1. The champions received Rs 5 lakhs.
MMC: Dinesh Thapa Magar (GK), Biraj Maharjan, Tampi, Sulle, Kamal Shrestha, Heman Gurung, Dona Thapa, Bishal Rai, Sujal Shrestha, Bimal Rana, Anil Gurung (C)
Nepal Army: Bikesh Kuthu (GK), Jitendra Karki, Bimal Pandey, Dipak Gurung, Suman Aryal, Santosh Tamang, Padam Tamang, Bibek Basnet, Bharat Khawas (C), George Prince Karki, Nawayug Shrestha
5th Jhapa Gold Cup: Tribhuwan Army FC Vs MFC Darjeeling - MATCH HIGHLIGHTS