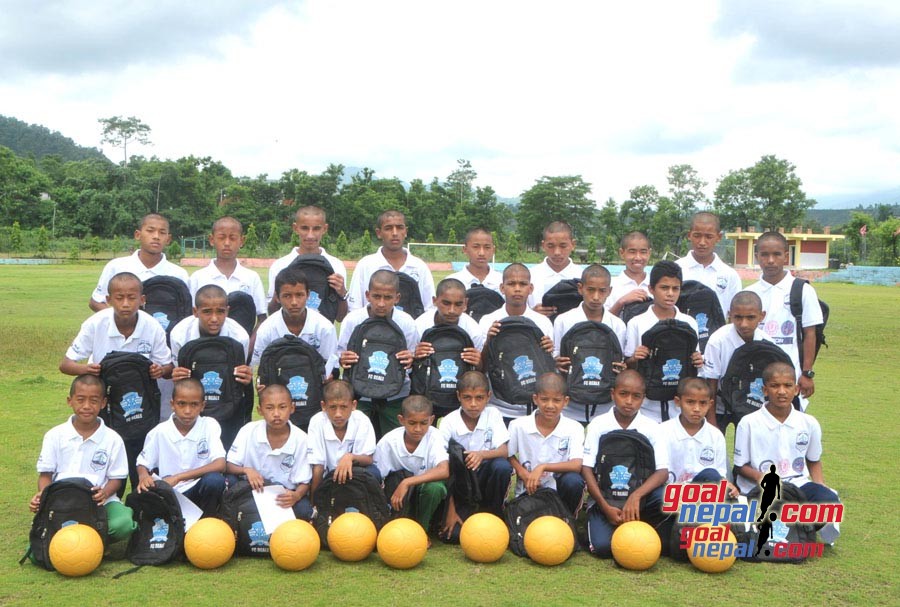 GoalNepal has donated 9 indestructible footballs and 30 school bags to Sahara football academy amid a program in Pokhara.

Journalist & GoalNepal CEO Bikram Thapa handed over footballs and bags to kids at Sahara academy located at Dobilla, Pokhara on Saturday.
"Why Sahara because we want it to be role model club for other clubs in Nepal. Sahara Club must be an example to other clubs. What they are doing is noteworthy.
"GoalNepal wants to rub shoulder with Sahara Club to make it a perfect football club in Nepal. To motivate them and the kids at the academy, we decided to donate nine indestructible footballs and 30 bags", said CEO Thapa.
Sahara Club is running residential football academy, which is the first public academy in Nepal.
Sahara Club president Bir Bhadra Acharya thanked GoalNepal and its supporters for the generosity.
"GoalNepal has supported us in many ways. We are grateful to GoalNepal and its CEO Bikram Thapa. We will never forget their support and their suggestions", said Acharya.
"We are very happy to receive indestructible footballs. This really amazes me. We were tired of buying footballs that usually torn out in just months and now we can breath a sigh relief", added Acharya.
GoalNepal CEO Thapa added that his team would help other youth academies in coming days.
Those balls are imported from USA. Child Reach Nepal supported GoalNepal to bring footballs to Nepal.
30 bags are provided by Santosh Reale Fund.
GoalNepal would like to thank our supporters; Child Reach Nepal and Santosh Reale Fund.