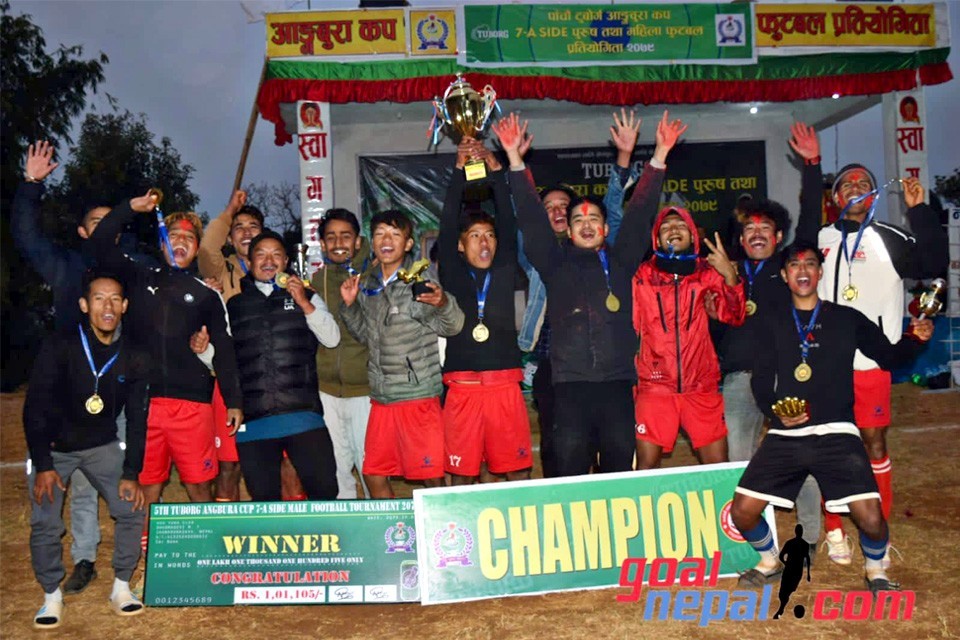 Hangthung Youth Club have won the title of the fifth Tuborg Angburra Cup Seven A Side Men's Football Tournament. In the final held on Sunday, Hangthung became the winners by defeating Panchakanya FC 6-1.
Bishal Jimi scored four goals in Hangthung's victory. Similarly, Milan Limbu and Bishal Bhandari scored one goal each.
Hangthung, who became the winners, received a cash prize of Rs 1,01,105 along with the title, while the runners-up Panchakanya had to be satisfied with Rs 51,105.
Basanta Ojha was selected as the man of the match in the final. Similarly, Rajesh Khadka from Hangthung was declared the best goalkeeper. Bishal Bhandari from Hangthung was chosen as the best defender while Asim Limbu from Panchakanya became the best midfielder.
Santosh Limbu from Panchakanya was declared the best forward. The highest scorer was Bishal Jimi of Hangthung and Sushil Rai of Hangthung was declared the best player of the tournament.
A total of 12 teams participated in the men's football competition, organized by the Nawa Youth Club, Dharmadevi Municipality-7, Sankhuwasabha, which started on the 28th of Poush.
Sayapatri Win The Women's Tournament
New Sayapatri Youth Club, Mulgaun won the women's football tournament title. After the competitive final match at the local playground in Dharmadevi municipality-7 ended in a goalless draw, the match had to be decided on a tiebreaker. In the tiebreaker, New Sayapatri managed to become the winners by defeating Dadagaun Sakriya Club 3-2.
Sayapatri who became the winners got 20,105 rupees along with the title, while the runners-up Dandagaon Sakriya Club were forced to settle with 12,105 rupees.