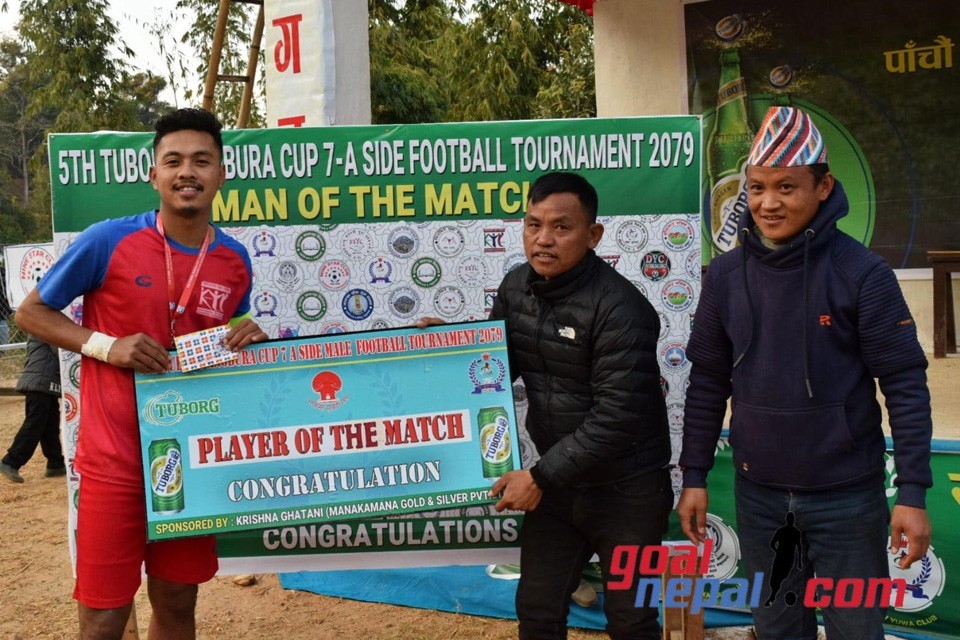 With an impressive win, Khandbari Youth Club has entered the semi-finals of the ongoing Tuborg 5th Angburra Cup seven-a-side football tournament.
Khandbari defeated Kiranjyoti Youth Club 3-0 in the quarterfinal match at the local playground in Dharmadevi Municipality-7 and made it to the last four. In the victory of Khandbari, Dinesh Magar scored two goals and one more goal was scored by Kimohang Rai. Samir Magar was elected man of the match.
Similarly, in another match, Mirmire Youth Club defeated Dharmadevi Youth Club by a big margin of 5-0 and entered the quarterfinals. Anil Jimi scored two goals for Mirmire while Badal Jimi, Prajwal Jimi and Shekhar Jimi scored one goal each. Shekhar Jimi was declared man of the match.
Similarly, in the next match of the day, Chewa Samudayik Bikas Club registered a 4-0 over Sayapatri Youth Club. Dipesh Gurung, Sabin Pokhrel, Diwas Shrestha and Naval Tamang scored for Chewa. Diwas Shrestha was elected Man of the Match in the match.
The winners of the competition organized by Nawa Yuwa Club, Dharmadevi Municipality-7, Sankhuwasabha will receive a title and a cash prize of Rs 1,01,105. The final match will be held on the 1st of Magh.