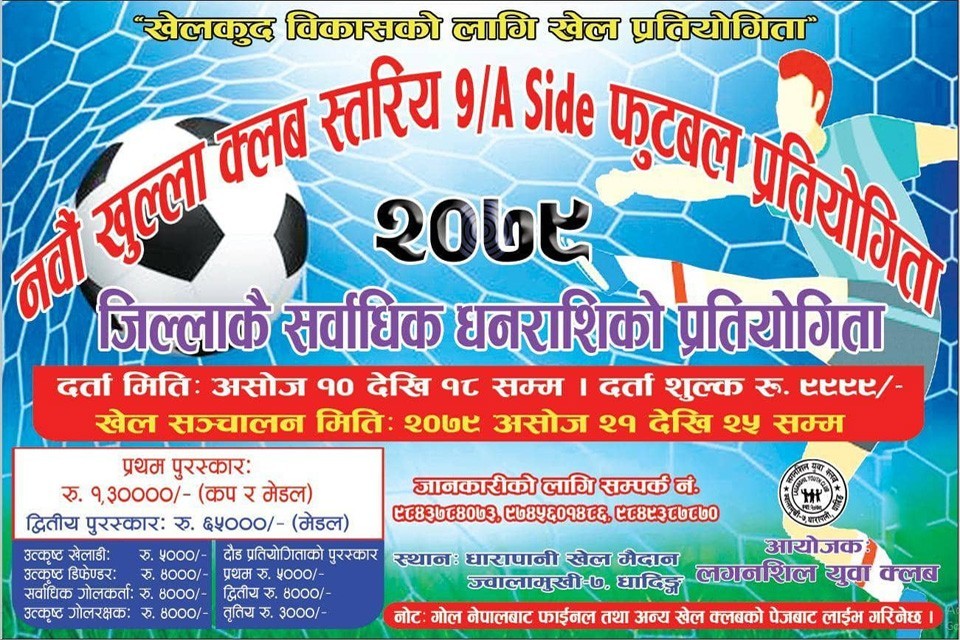 The ninth club-level open nine-a-side football tournament will be held from Ashoj 21st to 25th organized by Lagansheel Youth Club, Jamalukhi-7, Dhading.
The organizers informed that the preparations for the tournament at the Dharapani playground are also in the final stages. Also, the last date for team registration for interested clubs has been fixed for the 18th Ashoj. The team registration fee is Rs 9,999.
The organizers informed that the winners of the competition, which is going to start with the original slogan of 'Sports Tournament for Sports Development', will receive Rs. 1,30,000 in cash, while the runners-up will receive Rs. 65,000.
Also, according to the organizers, attractive cash prizes have been arranged for the best players in the individual categories. The best player in the competition will receive Rs. 5,000 in cash and a trophy, while the best players in other individual categories will receive Rs. 4,000 each with a trophy.
Not only that, the organizers said that an open race competition will be organized on the same occasion. The winner in the running competition will receive Rs. 5,000 in cash along with a medal. Similarly, the organizers also informed that the second and third place winners will receive medals with cash prizes of 4,000 and 3,000, respectively.