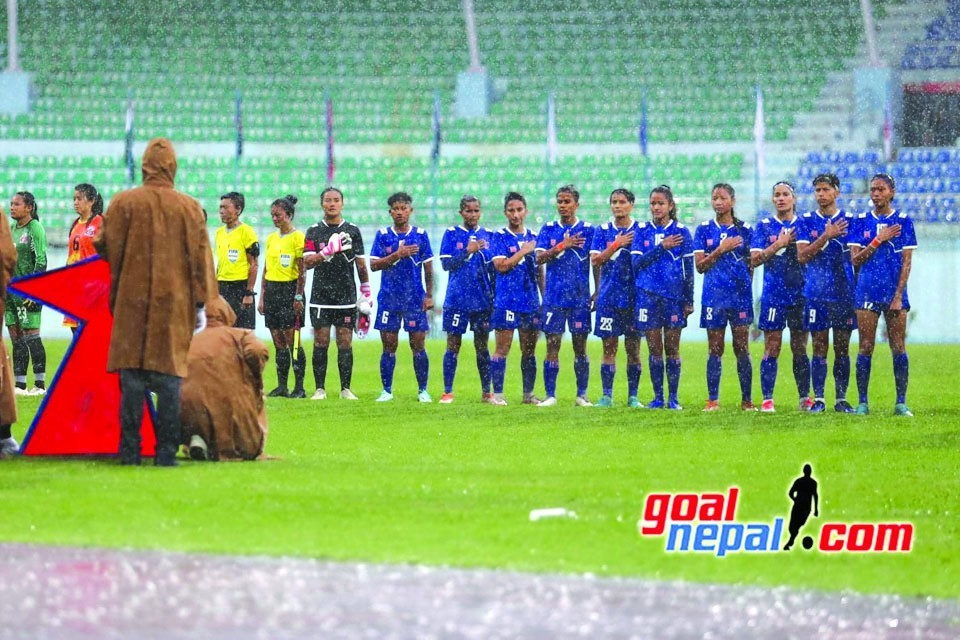 Hosts Nepal will take on Sri Lanka National Women's Team in Kathmandu in the SAFF Women's Championship today.
The match will kick off at 5:30 PM at the Dasharath Stadium. Nepal are looking to write history with their first SAFF Women's Championship title on home soil in this tournament. The tournament's previous edition was also held in Nepal, at Sahid Maidan, Biratnagar, where Nepal succumbed to India in the final.
Nepal are at the top of the group with three points from one match after defeating Bhutan 4-0 on the opening day. Two goals each from Anita Basnet and Sabitra Bhandari.
Bhutan are second with an inferior goal difference to Nepal, having played two matches. A draw will put Nepal in the semifinals as the group winners. A draw in this match would be enough for Bhutan to cement their place in the final four as well.
Sri Lanka must win by a five-goal margin to book their place in the semifinals.

In the five previous editions, Nepal have finished as the runners-up four times and have bowed out of the semifinals once. Having come close to winning the title on four occasions, the Nepali side will look to create a triumphant history in the country's capital this time.
Squad:
Nepal: Anjila Tumbapo Subba, Anjana Rana Magar, Usha Nath, Hira Kumari Bhujel, Amrita Jaishi, Gita Rana, Punam Jargha Magar, Nisha Thokar, Samikshya Ghimire, Bimala BK, Bimala Chaudhary, Manjali Kumari Yonjan, Preeti Rai, Saru Limbu, Dipa Rai, Dipa Shahi, Indira Rai, Anita Basnet, Anita KC, Amisha Karki, Rekha Poudel, Sabitra Bhandari, Rashmi Kumari Ghising.
Head to head:
Nepal
Sri Lanka
Total
Home
Away
Total
Home
Away
Matches played
5
4
1
5
1
4
Wins
5
4
1
0
0
0
Draws
0
0
0
0
0
0
Losses
0
0
0
5
1
4
Goals for
15
11
4
0
0
0
Goals against
0
0
0
15
4
11
Nepal and Sri Lanka have played each other a total of five times, with Nepal winning all five matches. Four of the five wins have come in SAFF Women's Championship itself.
Ticketing & Broadcasting:
Tickets for the match and the entirety of the SAFF Women's Championship can be bought from Paywell. AP1 Television will broadcast the tournament live.
Nepal Vs Bangladesh - 2nd Friendly Match Highlights