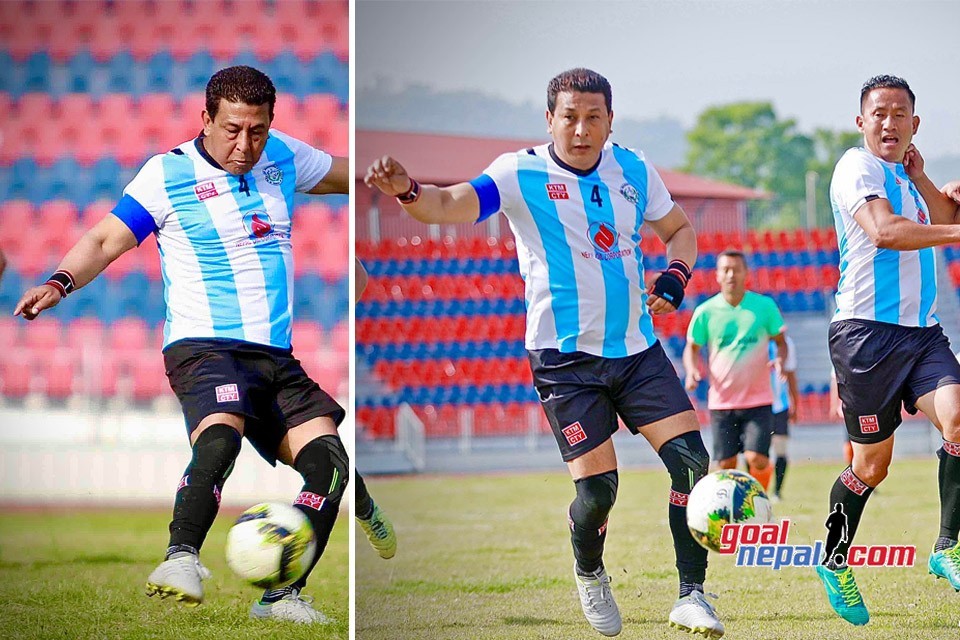 On Friday, the Ministry of Youth and Sports Gandaki Pradesh kicked off the National Nine-A-Side Veteran Football Tournament at Pokhara Stadium. On Friday, four matches were completed.
Bagarbhai Khalak of Pokhara defeated Walling Veterans 5-1 in the morning match. Walling Veteran took the lead in the second minute of the game thanks to a goal by Moti Kunwar. Bagarbhai Khalak was able to come back the game. Bagarbhai got goals from Prakash Gurung in the 28th minute, Tikendra Gurung in the 30th minute, Ganga Tamang (Player of the Match) in the 32nd minute, and Deepak Pun in the 46th minute.
In the tournament's second match, Lakeside Veterans defeated Pokhara Veterans 1-0 at Pokhara Stadium. Lakeside won thanks to a goal by Naresh Gurung in the 16th minute. Man Bahadur Gurung was named the player of the match.
Deep United of Pokhara was defeated 5-3 by Manang Marsyangdi Club, captained by Youth and Sports Minister Rajiv Gurung. Manang's Karma Chhiring Gurung scored three goals.
Deep United took the lead in the second and sixth minutes thanks to Bir Bahadur Gurung's goals, but Manang equalized in the 13th minute thanks to Karma Chhiring Gurung's goal. Deep United's Dal Bahadur Lama scored in the 40th minute. Manang's Karma Chhiring scored his second goal in the 42nd minute. Karma completed his hat trick by converting a penalty awarded in the 48th minute. Manang won convincingly thanks to Suman Man Shrestha's goals in the 60th and 61st minutes. Manang's Karma was named Player of the Match.
After the Simara Veteran team withdrew from the competition, Sangam Veterans of Pokhara advanced to the final eight.
Gandaki Province Speaker Netranath Adhikari kicked off the competition, which was organized by the Gandaki Province Ministry of Youth and Sports. In total, 18 teams are taking part in the competition.
Veteran teams are competing from Pokhara, Kathmandu, Hetauda, Waling, and other cities. The winner of the competition will receive Rs 300,000 in cash, followed by Rs 150,000 for the runner-up, Rs 30,000 for the two semi-finalists, Rs 20,000 for the best player, and Rs 15,000 for the best five categories. Six games will be played on Saturday, according to tournament coordinator Dil Bahadur Gurung.
POKHARA STADIUM - 10% WORK IS STILL LEFT