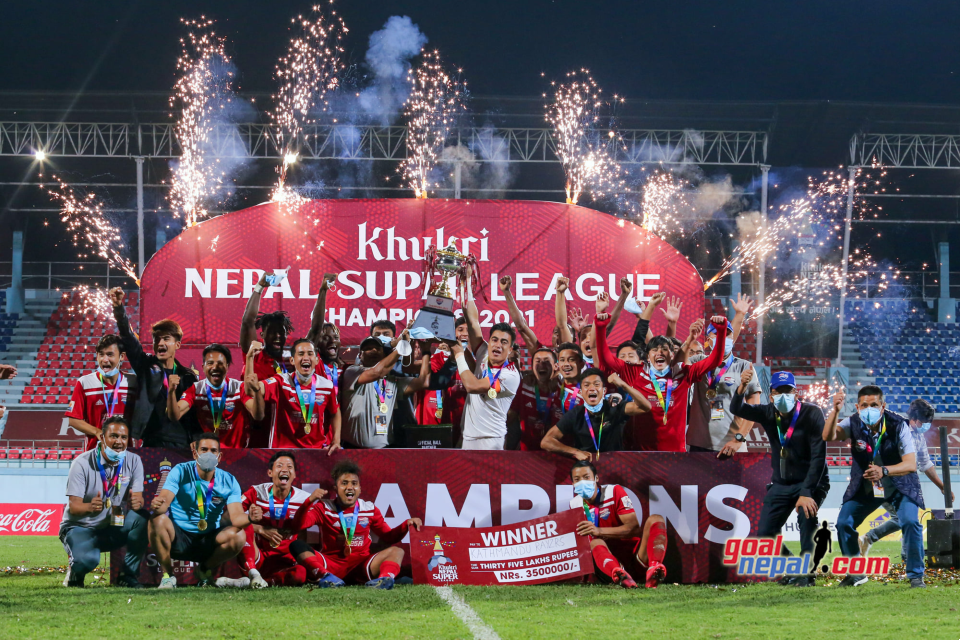 As I was writing this piece, it came to my notice that National Super League got the green light to begin the competition starting April 8th from the All Nepal Football Association.

I have intentionally left my original write up unchanged for you to read. It is relevant to say the least.

It is a sigh of relief for players, fans and all those associated with the tournament. Prior to that, uncertainty surrounded the second edition of National Super League,a franchise-based football tournament scheduled to start from April 8th to May 15th in Kathmandu.

The fate of the National Super League (NSL) still hangs in the balance. Whether the tournament gets underway or not as planned, nobody knows at this point.

The cancellation of an immensely important tournament of NSL stature is the last thing we want.I am keeping my fingers crossed that everything goes well.

Given the big success and tremendous excitement the launch of NSL generated in the sports circle last year, football fans are eagerly anticipating the kickoff of this season as well.

Indeed, NSL is a welcoming tournament in the context of Nepal football.No one disagrees that it lays groundwork for building a desperately needed robust professional development of football in the country which, up till now, is sadly lacking.

As a matter of fact, NSL was/is one of the biggest things to happen in Nepal football in recent years. It contributes significantly to the development of professional football and provides young aspiring players in the country to showcase their talents and start a professional career.

Although the tournament is only in its second year,it has quickly grown in stature,size,investment and popularity with the inclusion of three new teams from Jhapa, Ilam and Birgunj.

The latest feud between All Nepal Football Association (ANFA) and some of the leading football clubs regarding players' contract issues is very unfortunate and does not bode well for the future of Nepal football.

Certainly, things have gone from bad to worse. ANFA was forced to cancel the tie-sheet draw for NSL following protests from A Division Clubs.

It all started after four 'A' Division teams, Three Star Club,Manang Marshyangdi Club, New Road Team and Sankata protested over players' auctions conducted by Nepal Sports and Event Management(NSEM), organizer of NSL, without their knowledge and more importantly,consent.

Legally speaking when a player signs a contract with a club he has to abide by the terms and conditions and be subject to the rules.In other words,the club has legal control over players until the contract runs out.

A player can be released by the club only if a transfer request made by another club is acceptable to them.There is nothing much players can do about it.

In my opinion,the Clubs did the right thing.They have every right to protest because players are bound by the terms of the contract.It is a legally binding agreement between the players and clubs.

As per FIFA statute,it is a clear breach of contract if a player enters into more than one contract covering the same period.

Furthermore, FIFA requires that every football association include in its regulations to protect contractual stability.

The impasse between ANFA and the football clubs is threatening to stall NSL.The irony is that the problem faced by the football body is of their own making.

They should have worked out everything as per FIFA statutes prior to announcing the date for the start of NSL.

However, they chose not to and took everything for granted. How could they bypass the statutes?

It speaks volumes about ANFA's absence of leadership,mismanagement, incompetence, negligence,ignorance and failure to do their duty. The conflict can/should be resolved by mutual understanding. The uncertainty hanging over NSL must end at the earliest.

NSEM must strictly respect and follow be it guidelines or directives or instructions or orders given to them by ANFA pertaining to the tournament. By ignoring and refusing ANFA's request to stop the players' auction,it was a blunder on part of NSEM.

President of ANFA KarmaTsering Sherpa has been a monumental disaster.In the last four years,he has proved himself totally incapable of true leadership.

With the ANFA election on the horizon, should he and his coterie of supporters get reelected, it would be unthinkable and tragic for Nepal football.

By Sushil Thapa,Fairfax,VA, USA (Senior journalist based in USA)

Note: The opinions expressed in this publication are those of the author. They do not purport to reflect the opinions or views of Biba Media.