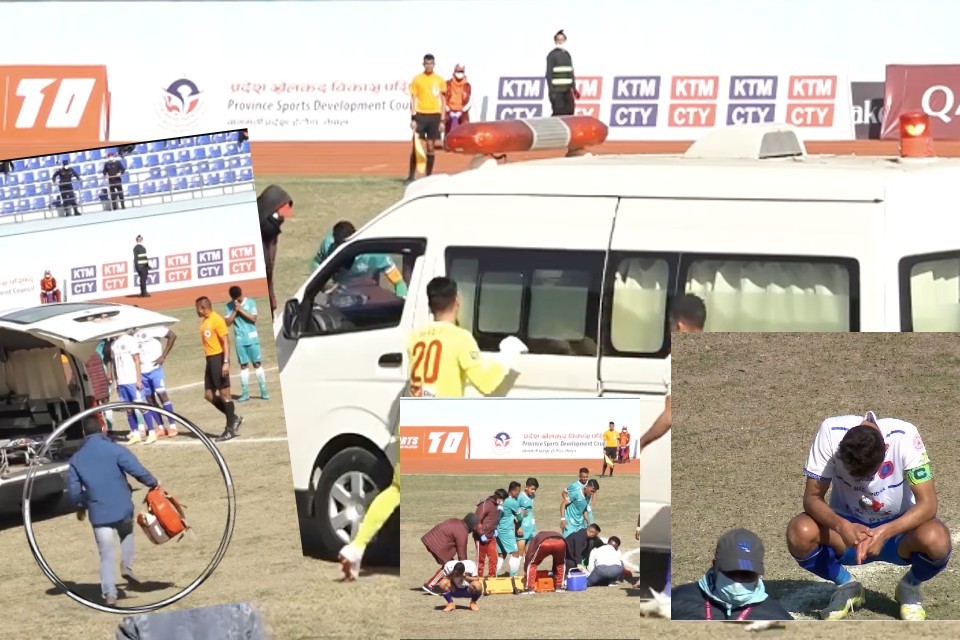 Attacking player of Machhindra club, Manish Dangi suffered a head injury in the league match against Chyasal Youth Club on Saturday.
He was rushed to nearby hospital after a collision with Moussa and an awkward landing. He had lost consciousness for a while but regained it a while later on the pitch itself. He is now out of danger.

Here is what happened: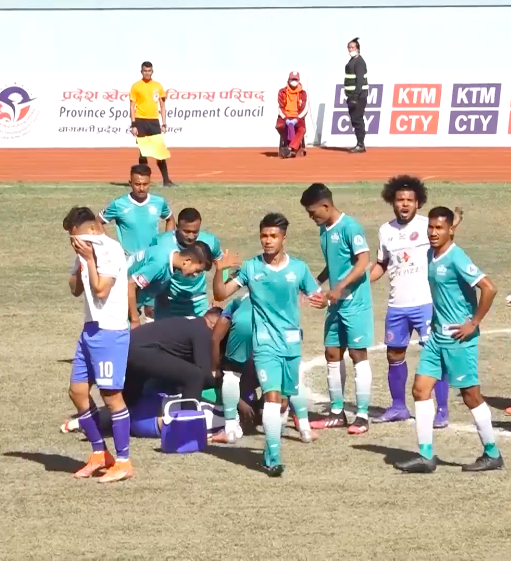 Referee Shyam Danuwar immediately called medicos within 4 seconds after the incident & MFC Physio Dr. Suraj Bhusal reached the scene 8 seconds later.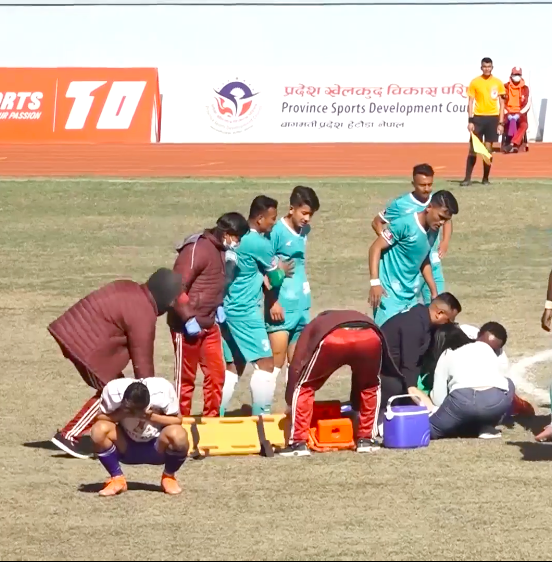 ANFA physio Dr. Nabina Shrestha reached the scene 10 seconds later. When Nepalese players were either crying or in distress, two foreign players laid on the field, communicated with Dangi. And helped Manish gain responsiveness. Looks like they are well trained about sports injury first aid.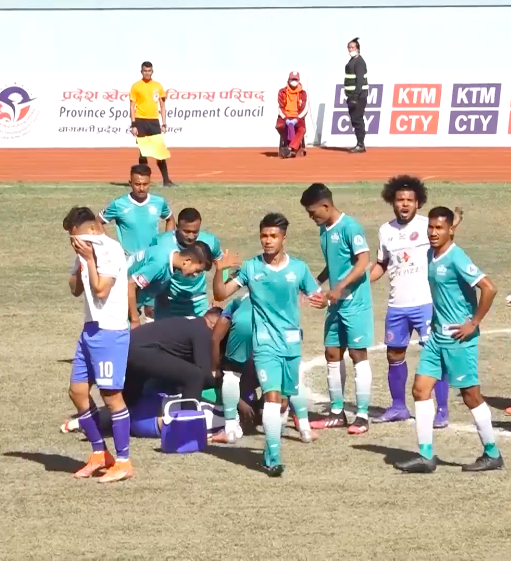 Physio Dr. Suraj Bhusal started CPR 15 seconds later.



Ambulance rushed into the field 40 seconds later.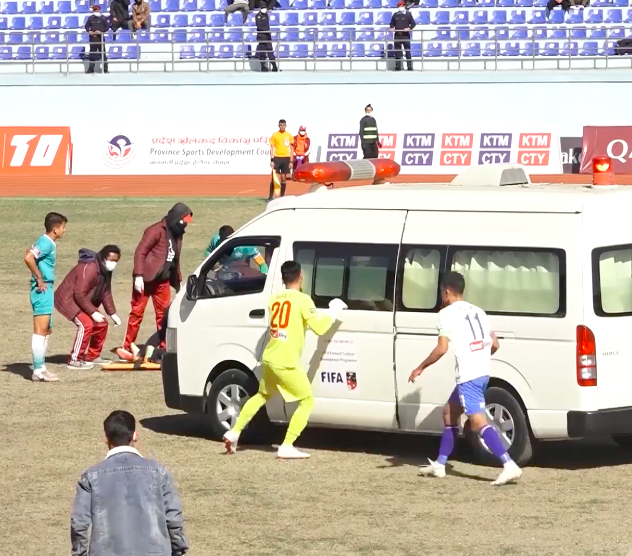 Not enough paramedics as players opened the door of the ambulance to take out stretcher from the van. It is reported that medical officer posted in the venue wasn't in position.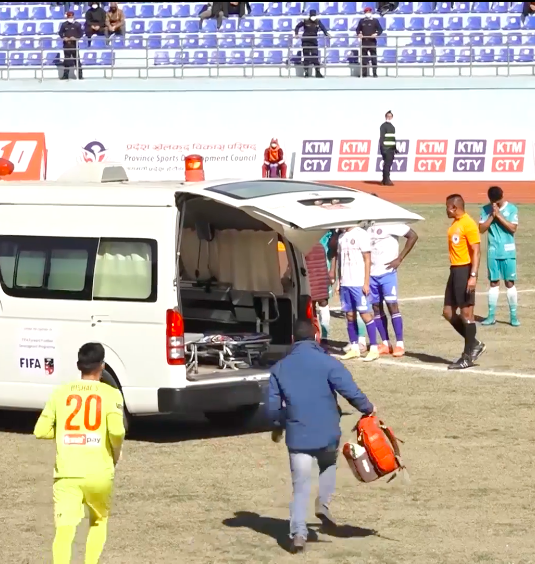 Life saving 

defibrillator was brought in 1' 25" into the scene.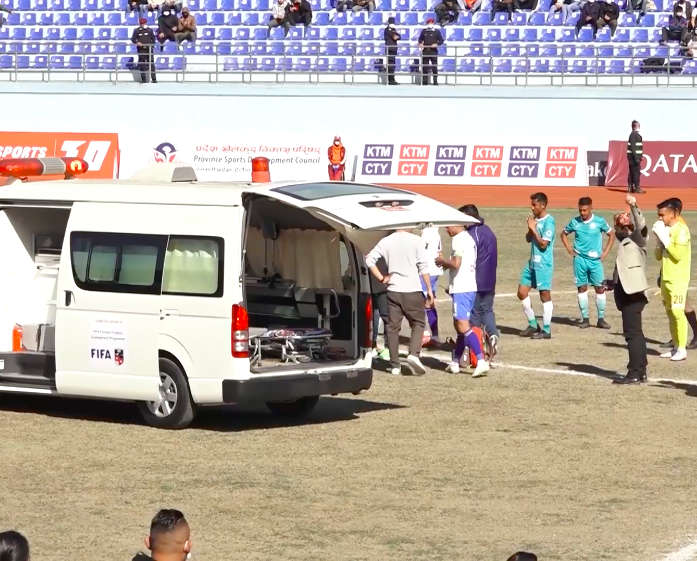 Manish gained responsiveness in nearly 3 mins after the incident. League committee member Gauri Man Rai showing thumbs up.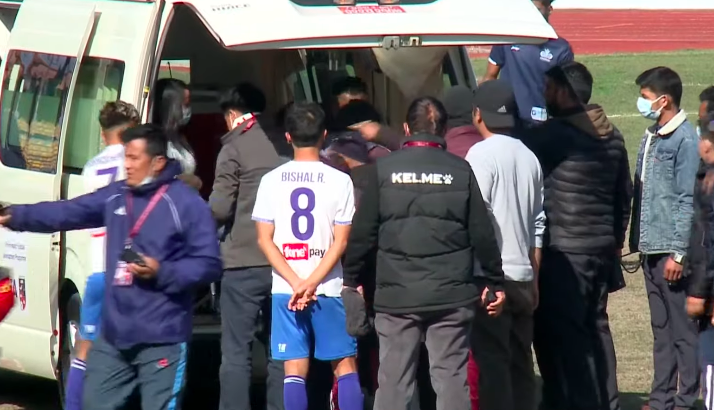 Manish was rushed to Bluecross Nursing home, nearby hospital.

It was Physio Dr Suraj Bhusal (MFC) who didn't think twice before starting frantic cardiopulmonary resuscitation (CPR). Dr Nabina Shrestha's timely intervention also helped Manish gain responsiveness on time. Thanks to those foreign players lying on the ground, communicating with Dangi continuously. We saved a prolific player !