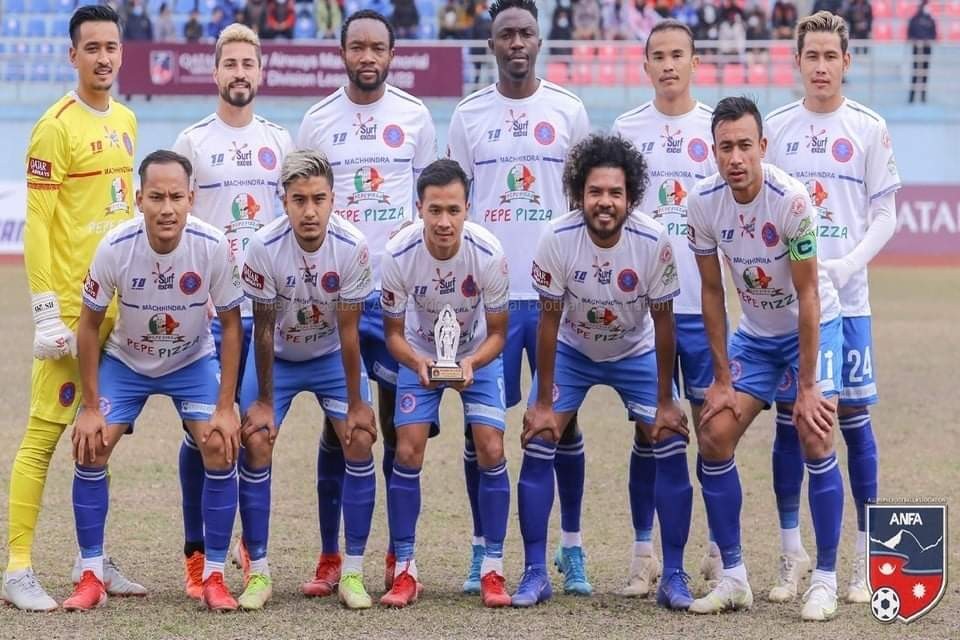 In an injury-ridden match, league leaders Machhindra FC defeated Chyasal Youth Club 2-0 to extend their lead with second placed Manang Marshyangdi Club who play Three Star Club later today.
In what looked like a David vs Golaith fight from early on, Machhindra dominated possession from the very start. Chyasal were unable to get hold of the ball and were unlucky from the very start.
Sagar Thapa had to start for Kamal Shrestha due to kit issues. And they had to lose their goalkeeper Arpan Karki to an injury in the 15th minute. And they conceded from the first play after he went off. Bimal Gharti Magar headed a Ranjit Dhimal corner from the near post to give Machhindra the lead.
Sunil Bal have Machhindra a two-goal lead in the 35th minute after he went through on the right and received a Bimal Gharti Magar through ball.
Machhindra dominated in the second half as well. They tried to slow things down and let Chyasal come to them and didn't waste much energy at the start of the second half.
Machhindra and everyone watching the match were sent shockwaves in the 66th minute of the match when Manish Dangi lost consciousness on the ground with an head injury after a collision. He did gain consciousness after a while but needed to be rushed the hospital in an ambulance. The players looked distraught and emotional during that period.
With this emotional win, Machhindra extend their lead at the top of the table with 26 points from ten matches. Chyasal are still at the bottom with just five points from ten matches. Relegation is looking likely for Chyasal.
Police Face Defeat Against Satdobato
Satdobato Youth Club defeated Nepal Police Club in the other match held simultaneously at the ANFA Complex in Satdobato.
Satdobato were victorious 1-0 thanks to a first half penalty scored by Akash Buda Magar.
With this win, Satdobato have climbed to fifth on the table with 15 points from ten matches while Police are 10th with 10 points.
6th Rajarshi Janak Cup: Machhindra FC Vs Far West XI - Match Highlights