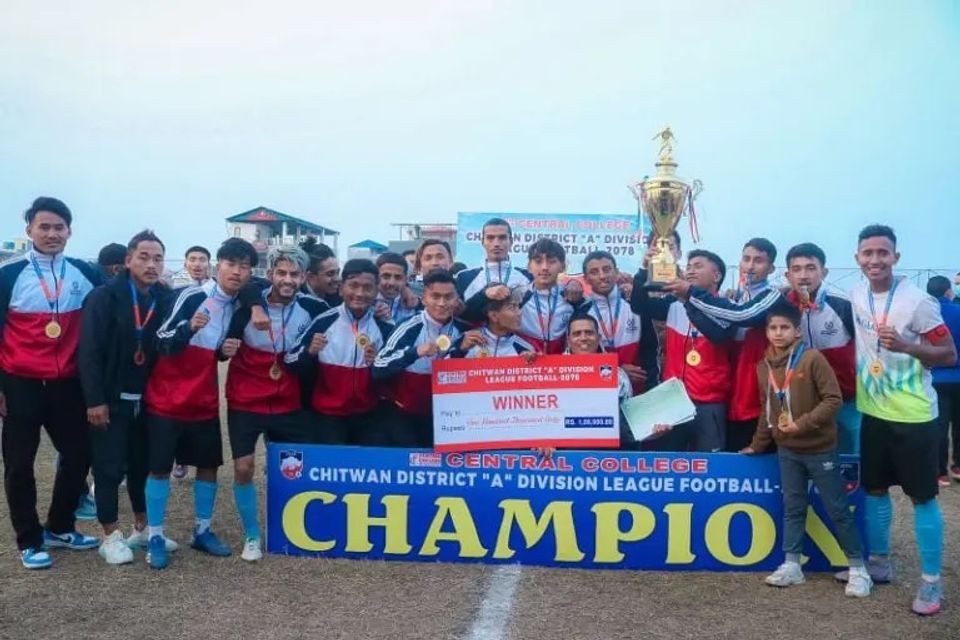 KBA Global Bharatpur Football Club (BFC) have become the Central College Chitwan District A Division League Champions. They won the title today (Wednesday) with a 3-0 victory over Everest Club. BFC were champions after reaching the final for the first time. Everest, which had advanced to the final for the fourth time, was once again confined to the runner-up spot. Everest had previously lost in the final three times.
BFC won thanks to two goals from Raj Bhusal and one goal from Prayas Tamang. In the 37th minute of the game, BFC took the lead. Prayas Tamang scored the first goal for the team.
In the first half, BFC extended its lead. Raj Bhusal scored from the penalty spot in the third minute of the additional four minutes added in the first half to give BFC a two-goal advantage. Everest defender Bipin Balla handled the ball inside the box, and the referee awarded a penalty. Raj made no errors in converting the penalty this time. In the 69th minute, Raj scored his second individual goal, giving BFC a 3-0 advantage. By scoring a stunning header from a cross from the corner of the field, Raj sealed BFC's victory. Man of the Match was awarded to Raj.
BFC, the winner, received one lakh rupees in addition to the trophy. Everest, which was limited to runners-up, has bagged Rs 50,000. Karma Tshering Sherpa, the president of the All Nepal Football Association (ANFA), presented them with prizes.
Roshan Chhetri of Everest was crowned the league's best player after scoring 4 goals and 8 assists throughout the competition. He was given Rs. 5,000 in cash, as well as the Golden Ball. Similarly, BFC's Raj Bhusal, who scored nine goals in the league, was named the league's top scorer. He was awarded Rs. 5,000, which included the Golden Boot.
Bishal Cement Nuwakot Gold Cup: Nuwakot Vs Chitwan (MATCH HIGHLIGHTS)