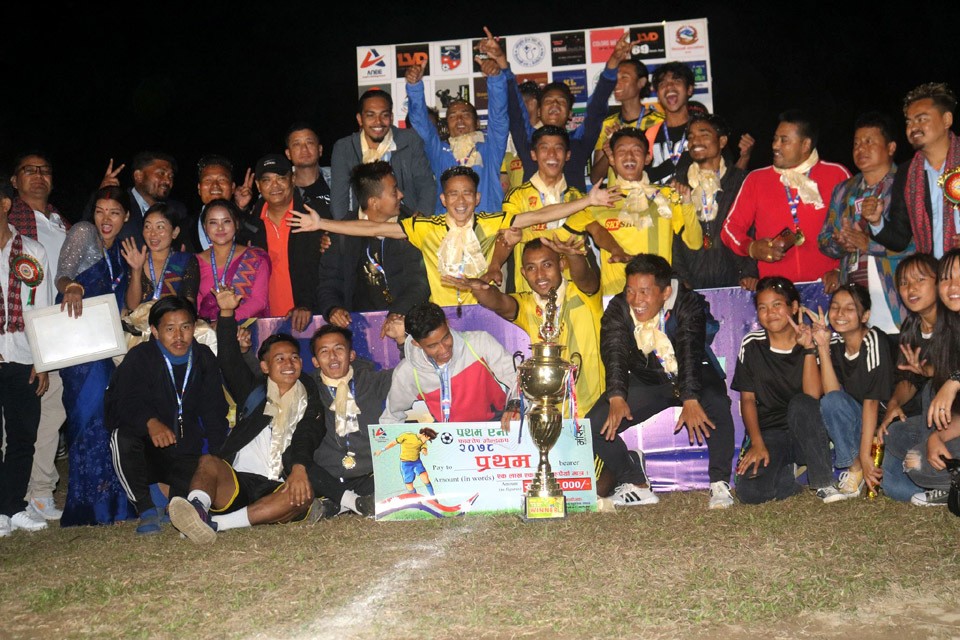 Dharan City FC has become the champions of the first ever Ani Faktep Gold Cup 2078. Dharan defeated Kakarvitta 7-6 on sudden death to win the title.
In the final match played at Balseva Aadharbhut Vidyalaya of Shivasatakshi-7 on Saturday, Dharan defended the title by stunning Turkeni Youth FC Kakarvitta in sudden death. Runner-up
Kakarvitta opened the scoring for the first time in the game. Captain Milan Rai scored a beautiful goal for Kakarvitta in the 17th minute of the first half. The pass given by foreign player Yami was converted into a goal by Milan Rai.
However, Kakarvitta took the lead in the game but the victory went to Dharan. Bibek Rai scored in the 23rd minute of the game to level the game. Binod Rai of Dharan scored a goal two minutes later to make it 2-1.
However, in the 45th minute of the match, Kakarvitta equalized through a penalty kick. Kakarvitta was awarded a penalty after Dharan defender Insan Limbu fouled Kakarvitta's Yami in a one-on-one situation with goalkeeper Ashish Karki. Kakarvitta captain Milan Rai converted the penalty.
The game was pushed to a tiebreaker after both sides failed to score a decisive goal in the allotted 90 minutes.
In sudden death, Kakarvitta's Subash Limbu's shot hit the cross bar and Nabin BK's shot went into a goal for Dharan to give the title to Dharan.
Bartaman Rai was declared the player of the match and was rewarded with Rs. 3000. Dharan's captain Bishnu Sunuwar was declared the best player of the tournament while Ashish Karki of Dharan was declared the best goalkeeper of the tournament. They each received 7,000 rupees.
Similarly, Bishal Darji of Kakarvitta was declared the best defender, Bibek Rai of Dharan was declared the best midfielder and Sanukan Limbu of Kakarvitta was declared the best forward. They each got 5-5 thousand.
Similarly, Heman Limbu of Faktep Football Club was declared the Rising Player. He was given Rs 7,000 in cash. Similarly, Kakarvitta captain Milan Rai was the top scorer and managed to get Rs 7,000 in cash. He had scored 4 goals throughout the tournament.
The winning team received Rs 110,000 in cash while the runner-up received Rs 51,000 in cash. The final game was inaugurated by Chief Minister Rajendra Rai of the state government.
4th Mai Valley Gold Cup: Mai Valley FC Vs Kaski XI - MATCH HIGHLIGHTS