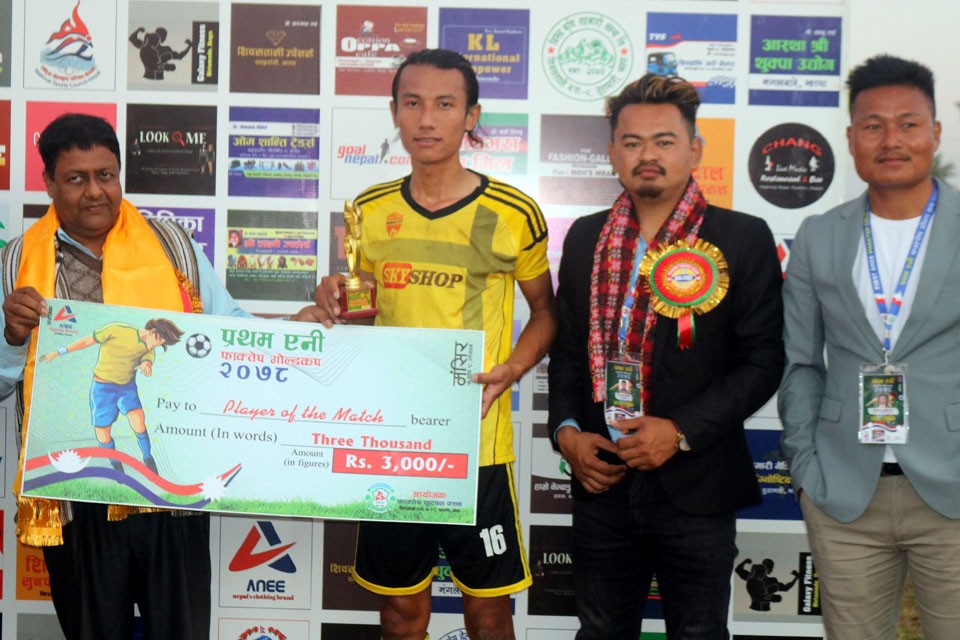 Dharan City FC Sunsari has advanced to the final of the first ever Ani Faktep Gold Cup. Pathari FC has been eliminated from the semifinals after failing to retain a lead.
In today's first semi-final match, Dharan defeated Pathari FC Morang 2-1. (Wednesday). Dharan qualified for the final by overcoming a 1-0 deficit. Dharan had previously defeated Ilam reversing a 2-0 deficit.
Pathari's first goal came in the 24th minute of the first half, when Sanam Bhujel scored. Mandeep Rai of Dharan, on the other hand, equalized in the 31st minute with a remarkable goal. Mandeep headed the cross from Bartaman Rai towards the direction of the goal.
The game was entertaining, even if the first half ended in a 1-1 stalemate. For Dharan, Bibek Rai scored the game-winning goal. He was named the player of the match and received a cash prize of Rs 3,000.
Bibek scored the winning goal in the offensive game in the 28th minute of the second half to send the team to the final.
The final semi-final match of the eight-team championship will be played tomorrow between Jalthal FC and Turkeni Youth FC Kakarvita (Thursday).
The winner of the competition held by Shivasatakshi 7's Faktep Football Club will receive Rs. 110,000 in cash, while the runner-up will receive Rs. 51000.
The competition's final will take place on November 30.
JALTHAL FC JHAPA ENTERS SFs 2nd BHAGIMAN MEMORIAL CUP