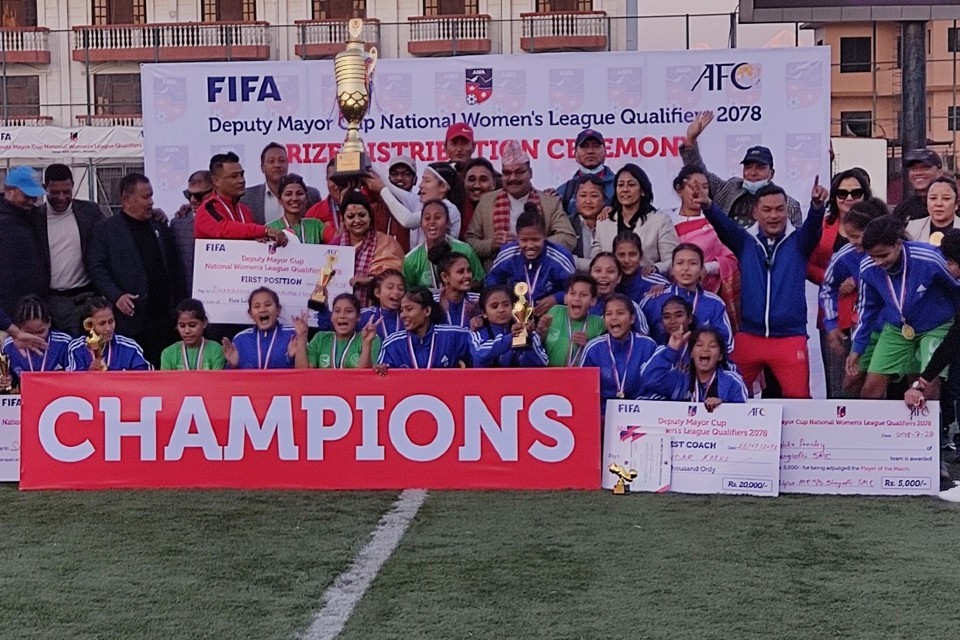 Dhangadhi Sub-Metropolitan has been crowned as the winner of the Deputy Mayor Cup National Women's League Qualifiers tournament.

Dhangadhi defeated Lalitpur Metropolitan 3-1 on penalties in the final, which was held today afternoon at ANFA Complex Satdobato.
Dhangadhi came back from a two-goal deficit in the second half to force a penalty shootout. Manisha Sen gave Lalitpur an early lead in the 12th minute of the match. Nirmala BK doubled Lalitpur's lead just four minutes later. They couldn't keep the lead for long, though.

Sima Rawal's cross from the right side of the pitch found its way into the back of the net thanks to a goalkeeping error in the 24th minute, allowing Dhangadhi to cut the deficit to just one goal.

Rajani's goal in the 39th minute gave Lalitpur a two-goal lead for the second time. Dhangadhi forced Lalitpur to a shootout after they were unable to maintain their two-goal lead. Chandra Bhandari's second-half brace with goals in the 49th and 64th minutes of the game tied the game at 3-3. In the shootout, Dhangadhi won the title by scoring three of their four penalties to Lalitpur's one conversion.

Rebika Pandey was named the finalist's player of the match. Dhangadhi walked away with a cash prize of five lakhs rupees, while Lalitpur had to settle for three lakhs rupees.

Individual awards were dominated by the winning team Dhangadi. Usha Nath, Saraswati Rokaya, Chandra Bhandari, and coach Raghanandar Karki of Dhangadi were named the tournament's best goalkeeper, best midfielder, best forward, and best coach, respectively.

Srijana Singh of Lalitpur was named the tournament's best defender. They were each given a trophy and Rs. 20,000.
Dipa Shahi of Kankai was named the player of the tournament and was awarded Rs. 50000 and a trophy.

Both finalists had previously qualified for the National Women's League after reaching the final.
NEPAL WOMEN'S VS KYRGYZ REPUBLIC 8-0 | MATCH HIGHLIGHTS