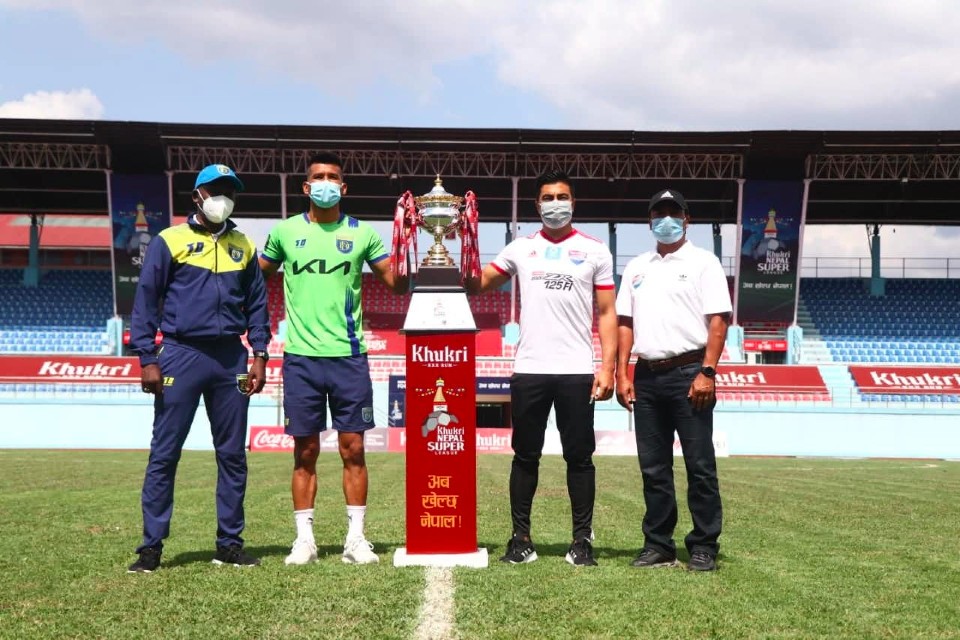 Dhangadi FC and Kathmandu Rayzrs FC will battle it out for the Nepal Super League title at Dashrath stadium Saturday.

Unsurprisingly Kathmandu Rayzrs FC outclassed a tired and jaded Lalitpur City FC in a dull and drab affair to earn a place in the final.

The two sides face each other for the third time in the competition. Having beaten Kathmandu Rayzrs FC two times, Dhangadi FC have given themselves a psychological edge over the opposition.

Whether Dhangadi FC completes a whitewash or third time's the charm for Kathmandu Rayzrs,time will tell. Call it a nail-biter or cliff- hanger is in the offing.

With four days of quality rest,Dhangadi FC will go into the final, fresh ,fitter and ready to face Kathmandu Rayzrs FC.
Dhangadhi FC must play free-flowing, attacking football throughout the match to put the opponent under constant pressure and on the back foot.

They have to maintain a high degree of intensity,consistency,pace and aggression in their performance. The offense revolved around Oladipo Olawale Afeez. Nishan Limbu,Darshan Gurung and Tanka Basnet needs to be more drilled, cohesive, structured in their approach.

They have to be in a position to create spaces to build up attacks, goal scoring and counter attack opportunities. Even more importantly, they will need a strong finish. I reckon ace striker Afeez is fully match fit and ready to go full blast. If so,he has to reproduce the best form for his team.

As always,midfielders will have a big say in shaping the game outcome .Experienced Bishal Rai alongside Pujan Uperkoti,Soujan Rai, Rupesh KC and Nishan Khadkha have to be at their best to take control of midfield play.

They must perform intelligently, combining tactical and positional approaches.They have to show more creativity and variance in their performance as well. Given the opponent's offensive strengths, the defense is under pressure to perform well. So far their performance has been satisfactory.
Franklin K Talla, Pujan Uperkoti,Ashok Khawas and Dinesh Rabanshi have to put together a complete tactical performance and cannot afford to make unforced errors. They have to keep the dangerous attacking midfielder Messouke Oloumou, the highest goal scorer of the tournament in check.

His speed, size, muscle and scoring prowess poses a serious threat to Dhangadi FC. Also they have to keep an eye on Stephen Binong, a powerful center forward playing alongside Oloumou.

Coach Yugal Kishor Rai has given a good account of himself.He has been successful in terms of strategies, tactics, game plan and team selection. Having made short work of Lalitpur City FC, Kathmandu Rayzrs FC are fired up,pumped up
and ready for the decisive showdown.They will look to keep their momentum going in the right direction.

They get another shot at Dhangadi FC to avenge their two defeats.To get the job done,they must dig deep, stay focused,give a hundred percent and play like it means business.They have to improve on corner kicks and set pieces, which have not been up to the mark.

Kathmandu Rayzrs FC are in the final largely due to offensive strength.The attacking combination of Messouke, Stephen and Ashish Rai have been impressive and served the team well.

Against a well composed Dhangadi FC defense, they have to be more thrustful,organized and clinical in finish .

Without playmaker Sanjok Rai, Head Coach Bal Gopal Maharjan succeeded in his 4-2-3-1 formation against Lalitpur City FC. I am not sure if the coach sticks with the same game plan and the winning combination. The pairing of Sudil Rai,Rajan Gurung and Tej Tamang stood out and lived up to expectations. However, they must improve their sense of football, reflex, agility and distribution in tight situations.They have to be more productive and effective when it comes to supporting both defense and offense.

If I am in his shoes a player of Sanjok Rai quality starts in my playing eleven. No one should dispute the fact that he has become a big part of his team's offense. The defense manned by Florent Koara, Tshering Gurung,Bishwash Shrestha and Ashish Gurung have to defend with lots of tenacity,determination, deft and confidence.
They cannot let Dhangadhi FC's pacey, tricky and physically strong striker Afeez have his way. Else,it can cost them the match. There is no room for chinks in the defense in such an important match.Getting the defensive approach and stance is essential.

Interestingly,Nepal's top two outstanding custodians Kiran Kumar Limbu and Bikesh Kuthu are skippering Dhangadhi FC and Kathmandu Rayzrs FC respectively.

In a delicately poised match,the team that plays to their strengths and exploits opponent weaknesses the most, wins. I still give a slight edge to Dhangadi FC over Kathmandu Rayzrs FC.

By Sushil Thapa,Fairfax,VA, USA