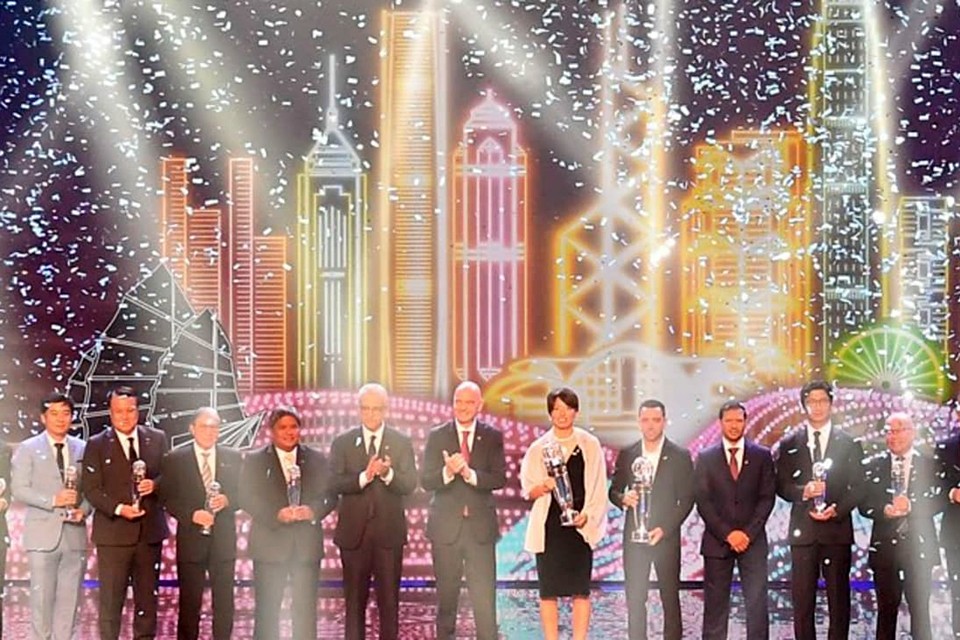 Qatar's rising star Akram Hassan Afif and Saki Kumagai of Japan won the AFC Player of the Year Award for men and women respectively at the 2019 AFC Annual Awards in Hong Kong on Monday.

Afif burst onto the scene at the AFC Asian Cup where he was an instrumental figure in helping Qatar secure their first-ever title. His brilliance was not limited to the Continental stage after guiding Al Sadd to the AFC Champions League semi-finals by scoring five goals.
Afif, will be presented with the AFC Player of the Year Award at the 2019 Gulf Cup, where he is currently playing for Qatar in the competition.
Kumagai, Japan's captain and one of Asia's most accomplished footballers, who captured a fourth UEFA Champions League title with Olympique Lyonnais and represented her country at the FIFA Women's World Cup France 2019 said:
"It is a great honour to receive this award. I would like to take this opportunity to thank all the people who supported me, especially my teammates in the national team and Olympique Lyonnais. They've helped me grow up as a footballer and their support has led me to this stage. This award will continue to motivate me to perform to the best of my abilities."
AFC President Shaikh Salman bin Ebrahim Al Khalifa praised all the winners at a glittering ceremony in Hong Kong: "Tonight we celebrated the stars of the sport who have represented their country, clubs and the Continent at the highest level. We applaud their exemplary achievements which will motivate and inspire future stars of the game.
"I must thank all our Member Associations, stakeholders and to our host - the Hong Kong Football Association – for staging the AFC Annual Awards in a glitzy celebration which truly mirrors the success of all the award recipients."
Korea Republic's Chung Jung-yong, who impressively led his country to a runner-up finish at the FIFA U-20 World Cup in June, received the 2019 AFC Coach of the Year award in the men's category, while Japan's women's national coach Asako Takakura claimed an unprecedented seventh AFC Coach of the Year award in the women's category.
Japan's Tomoki Yoshikawa wrapped up a successful year by winning the 2019 AFC Futsal Player of the Year award, after helping his club Nagoya Oceans win the AFC Futsal Club Championship for a fourth time and was also named the competition's Most Valuable Player in Bangkok, Thailand.
The Continent's highest accolade – the AFC Diamond of Asia award – was bestowed to His Majesty Seri Paduka Baginda the Yang di-Pertuan Agong Al-Sultan Abdullah Ri'ayatuddin Al-Mustafa Billah Shah Ibni Almarhum Sultan Haji Ahmad Shah Al-Musta'in Billah in recognition for his valuable contributions spanning more than three decades to the game in Asia.
The King of Malaysia received the award at the Istana Negara in Kuala Lumpur, Malaysia, on November 7, 2019.
AFC Annual Awards 2019 Roll of Honour
AFC Diamond of Asia:
His Majesty Seri Paduka Baginda the Yang di-Pertuan Agong Al-Sultan Abdullah Ri'ayatuddin Al-Mustafa Billah Shah Ibni Almarhum Sultan Haji Ahmad Shah Al-Musta'in Billah
AFC Member Association of the Year:
Inspiring: Japan Football Association
Developing: The Hong Kong Football Association Ltd.
Aspiring: Guam Football Association
AFC President Recognition Award for Grassroots Football:
Inspiring Member Association: Chinese Football Association
Developing Member Association: Football Association of Singapore
Aspiring Member Association: National Football Association of Brunei Darussalam
AFC Coach of the Year:
Women: Asako Takakura (JPN)
Men: Chung Jung-yong (KOR)
AFC Futsal Player of the Year:
Tomoki Yoshikawa (JPN)
AFC Women Player of the Year:
Saki Kumagai (JPN)
Awards not presented in Hong Kong:
AFC Player of the Year:
Akram Hassan Afif (QAT)
AFC Youth Player of the Year:
Women: Jun Endo (JPN)
Men: Lee Kang-in (KOR)
AFC Asian International Player of the Year:
Son Heung-min (KOR)

AFC