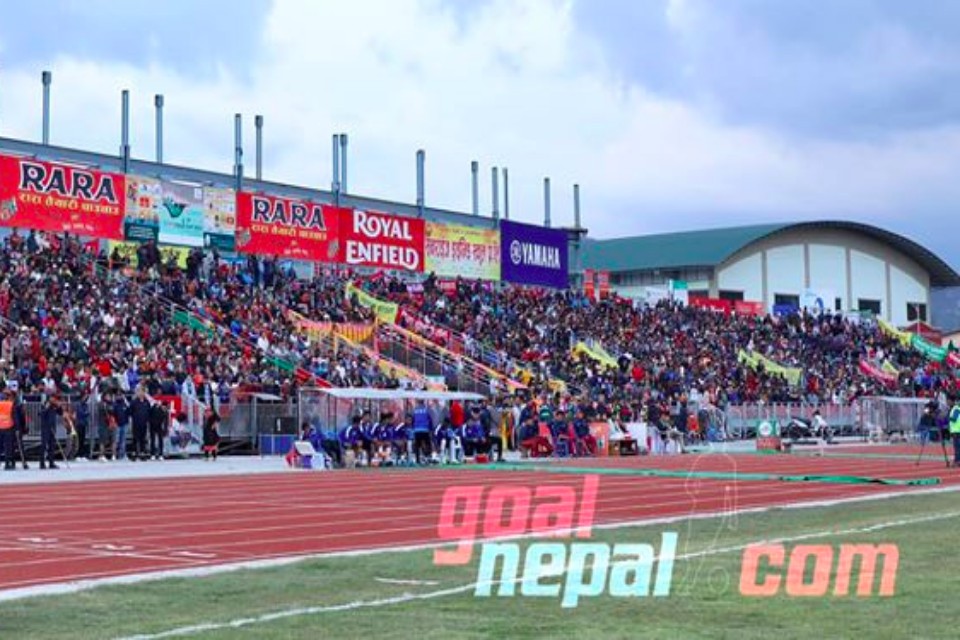 More than 10,000 fans attended the final match of 18th Aaha! RARA gold cup football tournament at newly constructed Pokhara stadium on Saturday.

The contractors haven't yet handed over the project to government but National sports council granted special permission to Sahara to host the event.

Despite government's appeal not to take part in mass gathering, football loving fans from Pokhara flocked to the stadium to watch the final match between Nepal Police & MMC. More than 10K fans were present at the stadium.

MMC defeated NPC 4-3 on penalties to lift the title.

Sahara club, the organizers, said 5680 fans bought tickets in the final match. Many passes were provided to the sponsors, supporters and the fans for the final match.

Member secretary of National sports council, Ramesh Silwal was present in the stadium to check everything.

"The stadium successfully hosted 10K plus fans", member secreatry Silwal was quoted as saying by Kaski sports development committee official.

The total capacity of the stadium is 18K.

Many fans in Nepal still believe that the grandstand type stadium isn't suitable for large gathering (fearing it will collapse in large turn out).

But Saturday's final match played at the Pokhara stadium with large turn out must have proved them wrong.