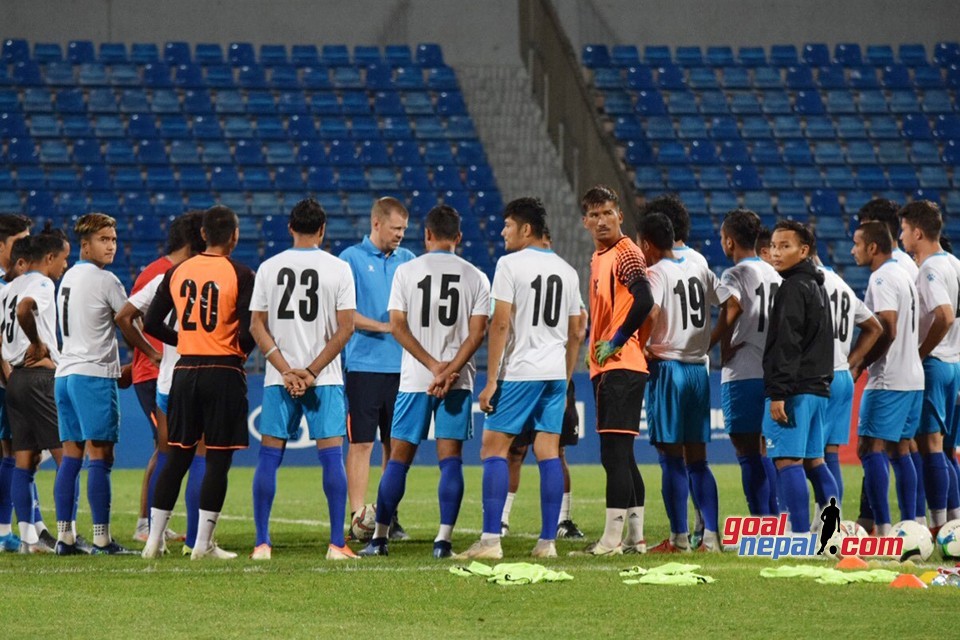 By Sushil Thapa, Fairfax, VA

The national football team of Nepal will be in action against formidable Jordan in the 2022 World Cup Qualifiers in Amman, Jordan in less than an hour.

Evidently, the ongoing World Cup qualification is proving to be long, arduous and challenging for Team Nepal. Yet again, they find themselves pitted against a tough and strong opponent. Forgetting not, this the same Jordan side that beat Australia in the 2019 AFC Asian Cup.

Jordan is slowly but surely evolving into a force to be reckoned with in international football. They have been making great strides toward in their commitment to achieving greatness. In Nepal, they face a relatively weak opposition that is full of fighting spirit and desire to upset the apple cart.

The Jordanians are the heavy favourites going into the match and expected to dominate the proceedings throughout.They are expected to field the same side that beat Australia. Mark my words, their sole objective will be trying to score as many goals as possible.

I expect Jordan to go full throttle against Nepal and register an outright win. On the other hand, Nepal has nothing to lose. They are the clear underdogs, and there is no pressure on them. However, they cannot afford to relax and display a hint of mediocrity in their performance. Play needs to be approached with utmost diligence.

The odds are heavily stacked against them. Once again, it is very important for Nepal to stay competitive, show dogged determination, grit and fighting skills. Every player must rise to the occasion, contribute significantly and play sensible football to avoid a heavy defeat.

Having already played against Kuwait and Australia, definitely, players have gained valuable experience and helped boost their self-confidence. There is absolutely no room for sloppiness and listless performance like we saw against Kuwait.

Given the superiority, physicality and tenacity of the opponent,I am pretty sure Coach Johan Kalin will approach the game just like against Australia in terms of strategies and tactics. He doesn't have much to offer.All he wants is a reasonable scoreline at the end of the day.

In retrospect, Nepal did a fairly good job against Australia by conceding only five goals, although, it was totally a one- sided affair from the beginning to the end. They have to put in a much improved team and individual performance in order to make the mighty opposition fight for victory.

Else, the match will be a cake walk for Jordan.I hope that does not happen, and Team Nepal is able to turn things around, fight to the end and not overwhelmed by the occasion.