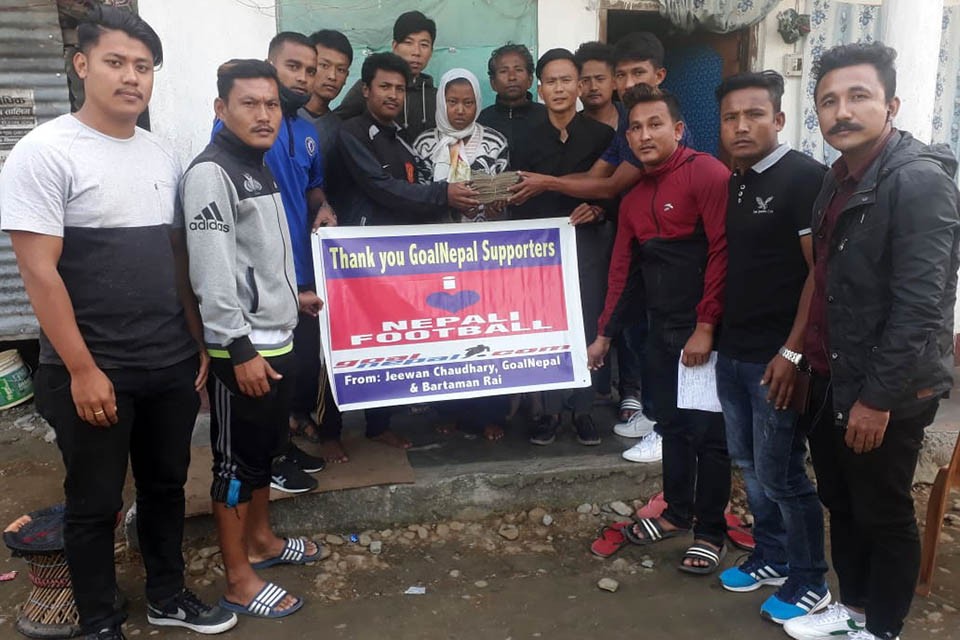 On bahalf of GoalNepal supporters, GoalNepal Foundation has handed over Rs 8,10,505 to football player, Jeewan Chaudhary, whose wife has been diagnosed with Kidney failure.

The money was handed over by Bartaman Rai to Chaudhary couple in Itahari on Saturday. Some A Division league players were also present in the handover program.

CEO of Biba Media Group, which owns GoalNepal.com & KhelDainik.com, Mr. Bikram Thapa thanked everyone for their valuable support.

Thapa - who is also the president of GoalNepal Foundation - said, "We are there. GoalNepal is there for all Nepalese football players.

Player Bartaman Rai said he was thankful to all Nepalese football supporters.

"We have opened bank account (NIC Asia Bank in Itahari) where we have deposited the money. Chaudhary couple can use the money for treatment", said Rai.




Note: The campaign is closed from today. However you can support Jeewan Chaudhary personally.

List of the money that we received from our supporters:

Day 1

Saroj Karki from Imadol, Lalitpur Rs 10,000

Amrit Rai Rs 5,555

GoalNepal Rs 5000


Prajwol Rai Rs 5000

Bharatpur FC captain Dhruba Bhusal Rs 2000

Dhankuta DFA president Govinda Rai Rs 1500


Bikram Sampang Rai Rs 1000

Roman Rasaili from APF Rs 1000

Day 2

Atish Krishna Shrestha: Rs 5000

Sonam Ghale: Rs 5000

Rohit Chand: Rs 10,000

Dhakaram Lamichane: Rs 2000

Day 3

Women's team coach Bhagwati Rana Magar: Rs 5000



All Nepal Women's Football Association President Bindra Dewan: Rs 7000


Sagar Three Star, Nepal Police school coach: Rs 1100

Media personality Tej Paudel: Rs 2000 



Former Sankata Club player Sanjib Chhetri from Australia: Rs 5000



Director of Spark Home Hospital & ANFA expo member, Rupesh Adhikari: Rs 11,000 



Bryan Gurung: Rs 1100 



Former FIFA referee Laba Khatri: Rs 5000 



FIFA assistant referee Rojen Shrestha: Rs 5000



FIFA assistant referee Prakash Nath Shrestha: Rs 5000 



Nepalese football lover Jitu Kaka from USA: Didn't want to reveal the amount



Former ANFA academy player Dipesh Katwal: Rs 2000

Day 4

Unknown: Rs 5,000



Ayush Thapa, USA: Rs 16,000



Hemanta Shrestha: Rs 5,000



Suman Bhattarai: Rs 2000



Bikram Baniya Chhetri: Rs 5000



KB Thapa: Rs 5766


Buddhiman Rai: Rs 5804


Rekh Bahadur Gurung: 5100

Day 5

Ruslan Three Star Club: Rs 30,000

Fusion Sports Oz, Australia: Rs 10,000

Amrit Adhikari, Santosh Katuwal (Nepal APF): Rs 2000

Day 6

Manil Gurung from HK: Rs 10,000

Prakash Budhathoki: Rs 5,000

Day 7

Nepal Japan United FC: Rs 10,000

Nepal United FC Manager Roshan Bajimayo: Rs 5,000

Gurung Andre (Buddha) Rs 1000

Paras KC, USA: Rs 20,650

Day 8

Sugan Tandukar & Ashok Thapa Group: Rs 20,000

Sanjog Gautam, Dubai, UAE: Rs 6,000

Sujan Sharma: Rs 2000

Referees from Sunsari: Rs 12,000

Day 9

Prabhat Ghimire: Rs 1000


Referee Madhukar Acharya: Rs 4000


Sumit Magar, APF player: Rs 1000 



Day 10

GoalNepal Supporters from Saudi Arabia (Campaign initiated by Rabin Gurung): Rs 20,368

Day 11

Dharan FC Portugal

Kendra limbu100€
Ramesh limbu30
Madhukar Thapa20
Tulashi Gurung20
Arun Rai50
yungsaba chemjong30
Adron xetri21
Dipin jung vavandari10
sachin Barai25
Raj kumar khajum parghari20
Rytesh Ghotane30
Sagar pokhrel50

Total=55,555

Day 12

Tushal Youth Club: Rs 30,000



Tribhuwan Army Club: Rs 20,000



Bhusan Subba: Rs 5,000



Gourab Shrestha: Rs 2000

Day 13

Sujan Gauchan: Rs 15,000



Parbat Pandey Rs 10,000



Divas Rai Rs 5,000



Biyon Rai Rs 5000



Laxmi Tamang Rs 2000 


Day 14

Blue Ray FC Japan - 3,500

Sunshine FC Japan- 4,000

Rising FC Japan - 5,000

LG Hong Kong FC - 5,000

Tokyo Brothers FC - 6,000

All Star FC - 6,000

Panauti FC Kavre - 10,000

kavreli Samaj Japan - 25,000

Pawan Chhetri - 10,000

Bikram Majhi -10000

Ekraj GC -2,000

Shristy maki -1,000

Day 15

Anush Jung Pandey: Rs 5768



Rajesh Shrestha: Rs 5009

Day 16

GoalNepal supporters from Malaysia : Rs 70,000
(Campaign coordinated by Milan Limbu)

Some supporters have directly deposited the money to Jeewan Chaudhary's bank account, making the total amount of Rs 9,55,018/-