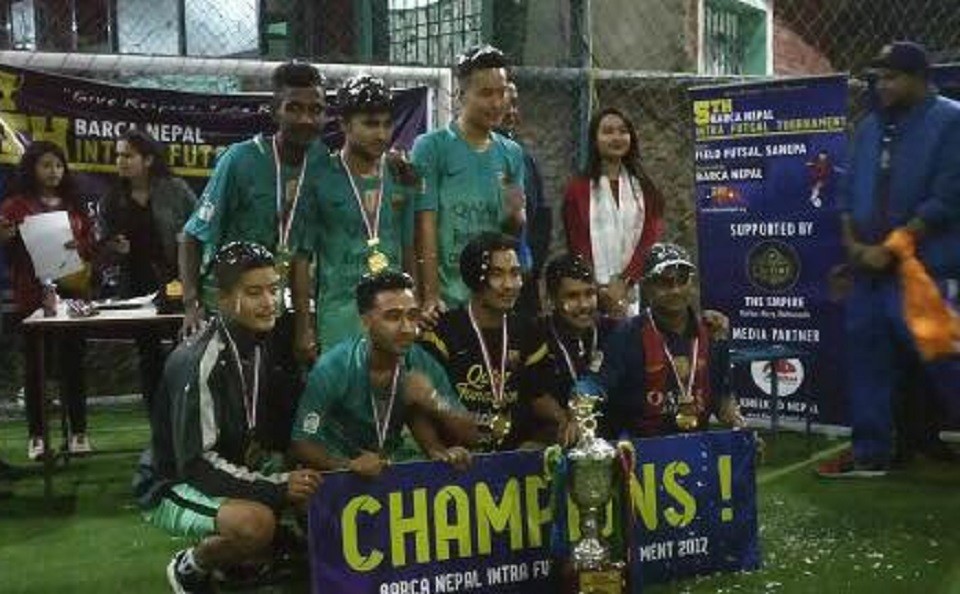 Barca Nepal on Saturday successfully organized the 5th Barca Nepal Intra Futsal Tournament at Field Futsal, Sanepa.
The tournament, which was played in league cum knockout format, saw Team Valdes clinch the title defeating Team Tito in the final.
In the group stages, Team Valdes secured top spot in Group D, which had only three teams while all other three groups had four teams each. One of Barca Nepal's committee members informed that Team Xavi had withdrawn its name from the tournament in light of injury to one of its players.
In Group D, Team Valdes and Team Keita advanced to the last eight while Team Abidal crashed out. Valdes had six points, Keita had three and Abidal couldn't get a single point.
In Group A, Team Koeman and Team Puyol secured their berths while Team Henry and Team Deco couldn't make it to the next rounds. Koeman had nine points, Puyol had six, Henry had three while Deco finished pointless.
In Group B, Team Joan Gamper and Team Ronaldinho entered the last eight while Team Milito and Team Eto'o crashed out. Gamper had nine points, Ronaldinho and Milito had four points each but the latter went out on goal difference along with Eto'o who couldn't get a single point.
In Group C, Team Enrique and Team Tito qualified to the quarterfinals while Team Rivaldo and Team Cruyff were not simply good enough to get to the next rounds.
In the quarterfinal matches, Tito defeated Koeman 3-2 to make it to the last four and was joined by Keita who comprehensively beat Gamper 3-0.
Likewise, in other last eight matches, Puyol saw off Enrique 3-5 on penalties after they drew 2-2 in normal time while Valdes overcame Ronaldinho 2-0 in the last quarterfinal match.
Similarly, in the semifinals, Tito defeated Keita 2-0 to reach the final only to lose the game 3-0 against Valdes, who got past Puyol 3-1 in the last four.
Team Valdes also dominated the individual awards. Achal Khatri was declared the highest goalscorer while Diwas Rai was the best player of the tournament. Anil Bhujel won the award of best goalkeeper of the tournament.
The best player was awarded with two Chandragiri tickets by Sushil Maharjan commonly known as Jarasta Maharjan, one of the club's most active members. The highest scorer won a pair of futsal boots while the best goalkeeper was prized with a pair of gloves.
Barca Nepal had invited former national football team goalkeeper and the current U-19 national team coach Upendra Man Singh as the chief guest along with singer Subani Moktan for the annual program.
Singh expressed his happiness with the participation of girls in futsal and claimed that there is a good future for them in South Asia.
Singh said, "I am very happy to see girls participating in futsal and I want to thank the organizers for such a good management. As Nepal is in second position in South Asia, so there is good future for Nepali girls' football team in South Asia.
Recently appointed President of Barca Nepal Prakash Gharti thanked everyone who helped in making the event a hit and added that they can make a difference as supporters' club in Nepal.
"I want to thank our sponsors, our partners, seniors and advisors, our well-wishers, all the participants and volunteers and most importantly our guests Mr. Upendra Man Singh, Miss Subani Moktan and everyone else who made this event successful and memorable,'' Gharti said, "This event represents we are stronger and can make a difference as supporters' club.
Singer Moktan entertained the crowd by singing a song.
The main sponsor of the event was Jersey Pasal Nepal while the co-sponsors were Amrapali Banquet Catering and Events, Nep Tech Trade Concern and Watermark Travels and Tours. Amrapali was also the trophy sponsor of the tournament's fifth edition.