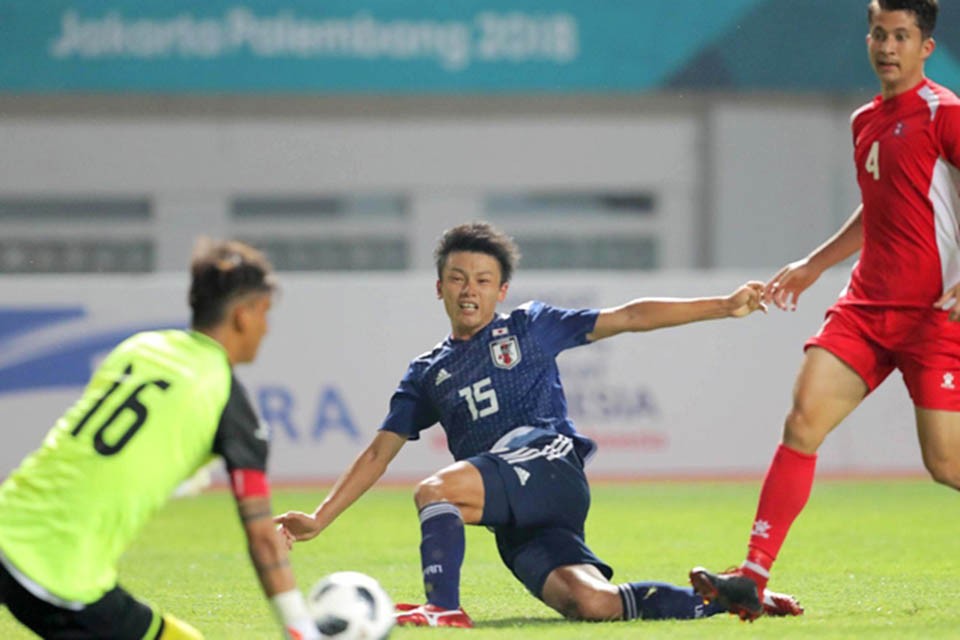 Despite defeat, the men's national football team of Nepal did reasonably well to contain Japan to a solitary goal at the 2018 Asian Games Football.


The narrow score-line does not tell the true story of the game. The Japanese had total control of the match, dominating the proceedings from start to finish. The only thing they failed to do was score goals as they would have liked to.


It was obvious that underdogs Nepal went into the game with a defensive mindset as they never deviated from the strategy till the final whistle. The ultimate objective was to concede a few goals, which they succeeded in doing, at the end of the day.


Given the strengths of the Japanese and Nepal's vulnerabilities,it looked as though Head Coach Koji Gyotoku and his Assistant Bal Gopal Maharjan purposefully took to defensive tactics and strategies to avoid an embarrassing defeat in terms of conceding too many goals.


They knew well that a stubborn defensive approach was the only way to stop a well-organized and well-prepared opposition like Japan with plenty of flair and pace from freely scoring goals.


Fortunately for Nepal, the gamble paid off, and the Japanese inability to cash in on scoring opportunities also made a huge difference.It was not a great day in the scoring chance department as they clearly lacked clinical finish.


In my opinion Nepal was overly defensive, which resulted in a complete offensive passiveness.The attack line, in fact ,was turned into mere spectators, failing miserably to launch a single convincing attack.


To say the least, it was frustrating and disappointing to see them slacking off and making little effort to rev up the attack.As a result, they piled the pressure on themselves and then could not do what they wanted to do.


The match statistics overwhelmingly in favour of the Japanese speak for itself. In the entire 90 minutes of action, Japan applied relentless pressure and laid siege to the opposition'sl goal, while Nepal was on the back foot defending frantically.


The failure to penetrate the opponent's defense can be attributed to the lackadaisical performance of the forwards and midfielders.On the day, outstanding goalkeeping and dogged defending,saved the day for Nepal.


Skipper Kiran Chemjong was at his very best and deserves high marks for his excellent performance.


Nepal has to put in a vastly improved performance against formidable Vietnam to stand a chance. They are both offensively and defensively a solid outfit. It will be a tactical mistake to play defensively for a point on part of Coach Gyotoku.


Just like in the previous match, it will only allow the opponent to dictate terms and push them to the back foot.The offense cannot afford to become inactive, lethargic and mediocre, and they must raise their performance to a different level to penetrate the strong Vietnamese defense.


Let us not forget, they are a high energy team packed with talented, committed players with insatiable appetite or victory.They have a great striker in skilful Nguyen Van Quyet who has a knack for scoring goals. The 3-0 thrashing they handed out to Pakistan speaks volumes of their strengths and tenacity.


Should Nepal hold favourites Vietnam to a draw, it can be considered a great result.

Senior Journalist Thapa is GoalNepal columnist who is based in USA.