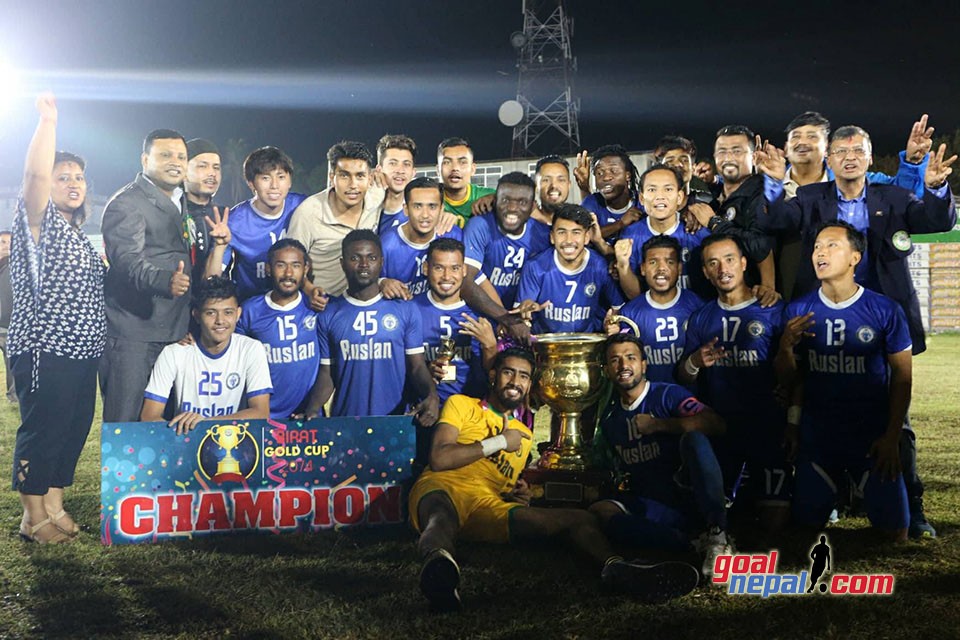 Ruslan Three Star Club lifted the title of Birat Gold Cup 2074 as they defeated Nepal Army Club 3-0 in the final of Birat Gold Cup 2074 at Sahid Maidan, Biratnagar on Monday.
This is the fifth title for Stars in this season. Earlier, Three Star Club won the title of Itahari Gold Cup, Budha Subba Gold Cup, Tilotama Gold Cup and Madan Bhandari Gold Cup.

Ananta Tamang put Stars ahead in the 56th minute. Bimal Gharti Magar doubled the lead in the 76th minute through penalty kick that was awarded to Three Star Club after Martins was brought down in the box. Magar scored another goal for his team in the 89th minute.

Martins was declared the man of the match.

Nepal Army Club first XI: Bikesh Kuthu(GK), Jitendra Karki, Bimal Panday, Dipak Gurung, Suman Aryal, Padam Tamang, Bal Krishna Shrestha, Tanka Basnet, Bharat Khawas(C), George Prince Karki, Nawayug Shrestha.
TSC First XI: Alan Neupane(GK), Bijay Dhimal, Rajin Dhimal, Peter Segun, Nirajan Khadka(C), Rupesh KC, Sunil Bal, Buddha Chemjong, Martins, Bimal Gharti Magar, Ananta Tamang.

Champions Three Star Club received twelve lakh and seventy one thousand rupees while runners-up got five lakh fifty one thousand rupees.
Birat Gold Cup Trust organized the tournament.