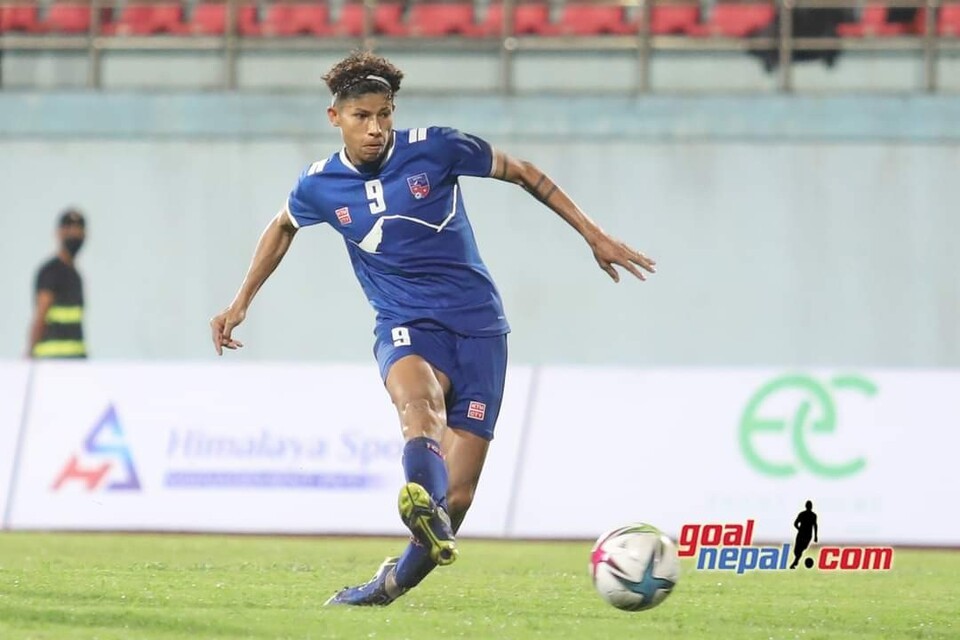 I don't have a shred of doubt in my mind that twenty six year old Sabitra Bhandari is the biggest name in Nepal women's football.
The footballer's meteoric rise to stardom has been phenomenal,capturing the imagination of sports aficionados from across South Asia and beyond. She has established herself as one of the finest footballers in South Asia and become a household name.
Born and raised in Simpani village in Lamjung district,Bhandari is popularly known by her nickname Samba. Her inspirational success story is all about believing in yourself to succeed in the face of failure,obstacles and achieving the impossible. I bet young aspiring women footballers across the country who have witnessed her struggle and rise to fame are motivated and encouraged to pursue their dreams and goals with determination,grit and confidence. Samba has blossomed into a lethal striker over the years.
With 43 goals to her name, she overtook Anu Lama as the all time highest goal scorer in Nepal women's football. Furthermore, at a tender age of 20, she established herself as one of the best women strikers of South Asia. She created history by signing with Israel's top division club Hapoel Ra'anana Women's FC to play in the Women's Ligat Nashim(league) recently. Her debut for the Israeli club will make her the first footballer from Nepal to play in Europe. She has managed to achieve football greatness in a relatively short period of time ,despite all the challenges, the complexities and the uncertainties. Samba's success story is the result of self -belief,hard work,passion, commitment and dogged determination.
From a very young age she was passionate and emotionally attached to the sport. At the age of 12 she started playing football and never surrendered her dreams.Otherwise, she would not have been where she is today. She was motivated and inspired by Anu Lama and Jamuna Gurung, then big stars of Nepal women's football. She harbored the dream of playing alongside them. She loved football more than anything including academics and never ceased thinking and dreaming of becoming a professional footballer one day. Her rise to star status is like a movie script.Born in an impoverished family of six children Samba was the second eldest.
Her father was the sole breadwinner of the family.They faced financial hardships and struggled to make ends meet. In spite of difficult circumstances, she never lost her drive and enthusiasm for football and kept moving towards her dreams. A pair of boots and football was out of her reach financially.She was well aware that her father could not afford it. Helpless 12 year old Samba turned to an improvised football made up of socks and played with it day in day out. Since there were no other girls playing football in the village, she played barefoot with boys in the neighborhood, surprising them with her raw talent. She faced the wrath of her community for wearing shorts and playing with boys.She was undeterred and kept playing. Besides football, she played volleyball and was an outstanding runner. She even won a gold in the national level school athletics meet. Football tournaments for girls in her village was a rarity then. Fortunately for her, a tournament was finally organized after a few years. She did not let the opportunity go begging. As expected, she played barefoot, showcasing her talent.She became the cynosure of all eyes as she stood out in the pack in terms of natural skills.
Mr. Sukra Lama, national referee then, proved to be the lucky charm for Samba. Having heard so much about the local girl's potential, he wanted to watch her play and evaluate her performance and talent. Finally he got to see her play in a competition in Lamjung where she finished as the tournament's top scorer. Mr. Lama was very impressed by her performance, footballing ability and skills. He strongly believed she had the potential to become a top notch international player. He was intent on helping her career get started. He took her phone number and promised to break the good news over the phone. He kept his word. After two months he called Samba and told her that he had arranged a trial with the Armed Police Force Club (APF) in Kathmandu.
The all important breakthrough was the turning point of her career. The news overwhelmed her, however, she did not have the money to travel to Kathmandu and buy a pair of boots which she needed for the trial. At the same time, she did not want to squander a once in a lifetime chance. Given her family's financial situation, she was faced with the dilemma whether or not to ask his father for money. Left sans an option, she mustered courage to tell her father everything. The wheel of fortune finally turned in her favor. Contrary to expectations, she received full hearted support from her father and got the money for the trip to Kathmandu and to buy everything she needed for the trial.
Making the most of her chance was crucial for her. She did not let herself down and concluded a month-long trial with a stand out performance. She drew applause from all quarters for her outstanding performance in the trial and had several other clubs jockeying for her. Her young career got off to a start after she signed a contract with APF Club in 2014 which ran through 2019. In 2014 she took another gigantic leap, emerging onto the global stage.
The national selectors picked her for the Women's South Asian Federation Football Championship (SAFFC). Coming in as a substitute she made her debut for the national team against Bhutan. She immediately made an impact by scoring a goal. Since then she has never looked back. Her career growth has been on an upward trajectory. Her scoring prowess was on full display in the 2016 SAFFC. She scored 6 goals and 5 goals against Bhutan and Maldives respectively. She has become the heart and soul of the national team.In 43 matches she has scored 41 goals.
A testament to her talent, resilience and indomitable spirit. The accolades keep coming in for her contributions and accomplishments. Indeed,well-earned. Apparently in recent years she has honed her scoring ability to a new level and turned into a prolific goal scorer.Her work ethic is key to her success as well. She became one of the most sought after footballers in South Asia. Her first foray into the world of regional club football outside the country was the Maldives Futsal league in 2017. She played two seasons in the league for Maldives Police and Airpot Club.She lived up to her expectations scoring consistently. She vaulted to new heights by signing a contract with Madurai, Tamil Nandu, India based Sethu FC in 2018.
As a matter of fact, she took the Indian Women's League by storm. She proved herself to be the most feared and devastating striker in the league by scoring a total of 34 goals in the first two seasons. She became defenders' worst nightmare and quickly earned the title of goal scoring machine. In her debut match against Manipur Police Sports club she made an immediate impact scoring 4 goals for her new club. Sethu FC won its first Indian Women's League(IWL) title thanks largely to Samba's contribution.In seven matches she scored 15 goals including two goals in the decisive game to seal the deal. For the IWL 2019-20 she changed teams, signing a contract with Gokulam Kerala FC. She concluded the season on a high note scoring a record breaking 19 goals helping the team lift the IWL crown. She rejoined her old team APF Club in 2022. In 2021 she suffered a career threatening injury and was taken to Qatar for treatment.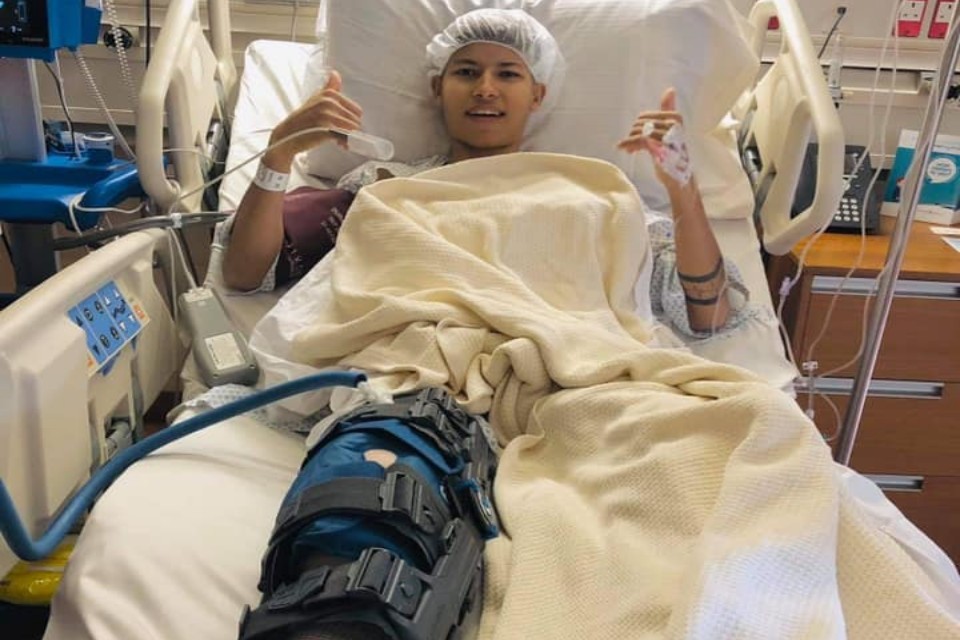 After a successful surgery and treatment she was back on her feet and in competitive action a year later. Samba made the long-awaited return to Gokulam Kerala FC for the 2022-23 season,but no rust showed in her form or performance. In her second stint with the Kerala outfit, she was doing what she does best, scoring goals. She had a fiery season scoring 29 times including 5 hat tricks which fetched her the IWL 2023 golden boot award. Furthermore, her team lifted the league title.
Samba has handled success in the right way and has not changed a bit. She is the same 12 year old we used to know: humble, selfless,teachable,respectful, caring, kind and hard working. She is more than happy because football has allowed her to support and take care of her parents and five siblings. Her contract with the Israeli outfit is the best thing to happen for Nepal women football and could open the floodgates. If she continues to play at the present rate, she is destined for bigger accomplishments.
By Sushil Thapa, Fairfax,VA, USA