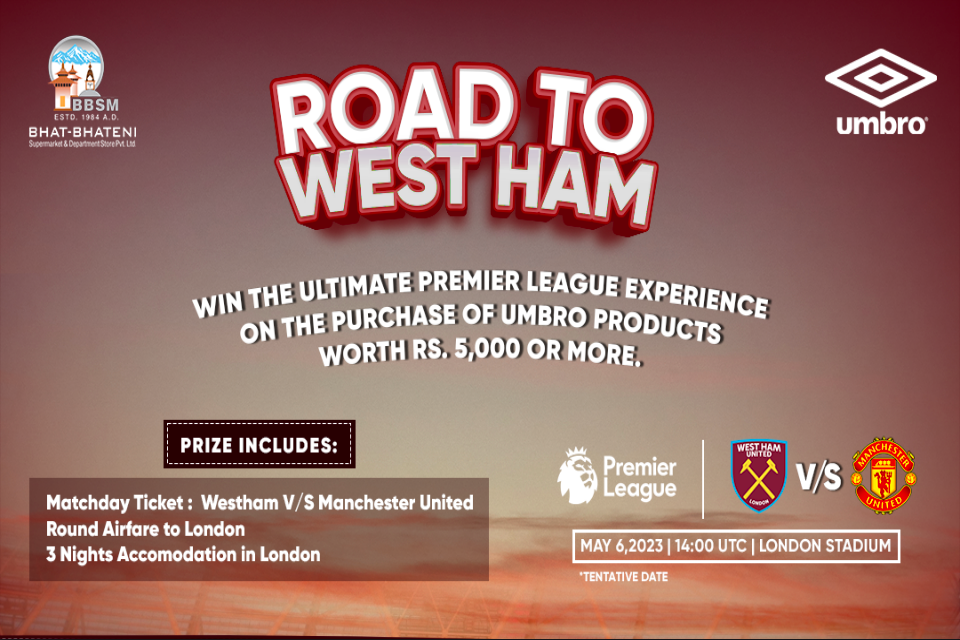 Road to West Ham winners will receive an all-expense paid trip to London to experience the ultimate premier league match between West Ham United FC and Manchester United FC, Bhat-bhateni holdings told GoalNepal.
Umbro, the Manchester-based sports brand, with a history that dates back almost 99 years is often credited for inventing modern sportswear and tailoring. Together, with Bhat Bhateni Supermarket and Departmental Stores, the pioneer of large-scale retail shopping in Nepal, Umbro is trying to ground its roots in the Nepalese sports and lifestyle market.
Recently Umbro signed a Sponsorship deal with Preeti Rai, a rising star of the Nepalese Women's National Football team. Preeti who is preparing for the U20 SAFF championship has received 6 lakhs worth of annual sponsorship support from Umbro at Bhat Bhateni Superstores.
27th January onwards, the brand is launching the Road to West Ham campaign at Bhat Bhateni Supermarket and Departmental Stores. On purchase of Umbro products worth 5000 or more, 2 winners will get the chance to experience the premier league match between West Ham United FC and Manchester United FC. The prize will include all expenses paid trip to London covering 3 nights/4 days accommodation and round airfare tickets.
Umbro is the official sponsor of West Ham United FC. The Road to West Ham campaign winners will be experiencing the Premier League Match at the home ground of West Ham United FC – the London Olympic Stadium against Manchester United FC.
The campaign which is scheduled to run between 27th January 2023 – 30th March 2023 will choose its winners on a lucky draw basis.
Aloke Jung Joshi, the head of business development at Bhat Bhateni Holding Company shares the inspiration behind the road to Wet Ham Campaign, "Bhat Bhateni Holding Co. aims to provide a global experience to BBSM consumers not only in the form of brands and products but also through customer experience. We want our customers to get the Global experience through our brands as well by getting exposure in the global arena, in this case, by witnessing a match between WHU and MUFC at London Olympic Stadium.
Additionally, for football enthusiasts, Umrbo and Bhat Bhateni Supermarket and Departmental Stores are preparing a special social media challenge, where participants can get a chance to win a Golden Ticket to West Ham by showing their football skills.
Umbro is available at 8 Bhat Bhateni Superstores inside the valley and 6 Bhat Bhateni Superstores outside the valley.
Shoppers can purchase Umbro sports, athleisure, and lifestyle products from BBSM Naxal, BBSM Boudha, BBSM Maharajgunj, BBS Bhaktapur, BBSM Patan, BBSM Koteshwor, BBSM Pokhara, BBSM Chitwan, BBSM Itahari, and newly established BBSM stores in Tokha and Sanagaun, and Dhangadhi.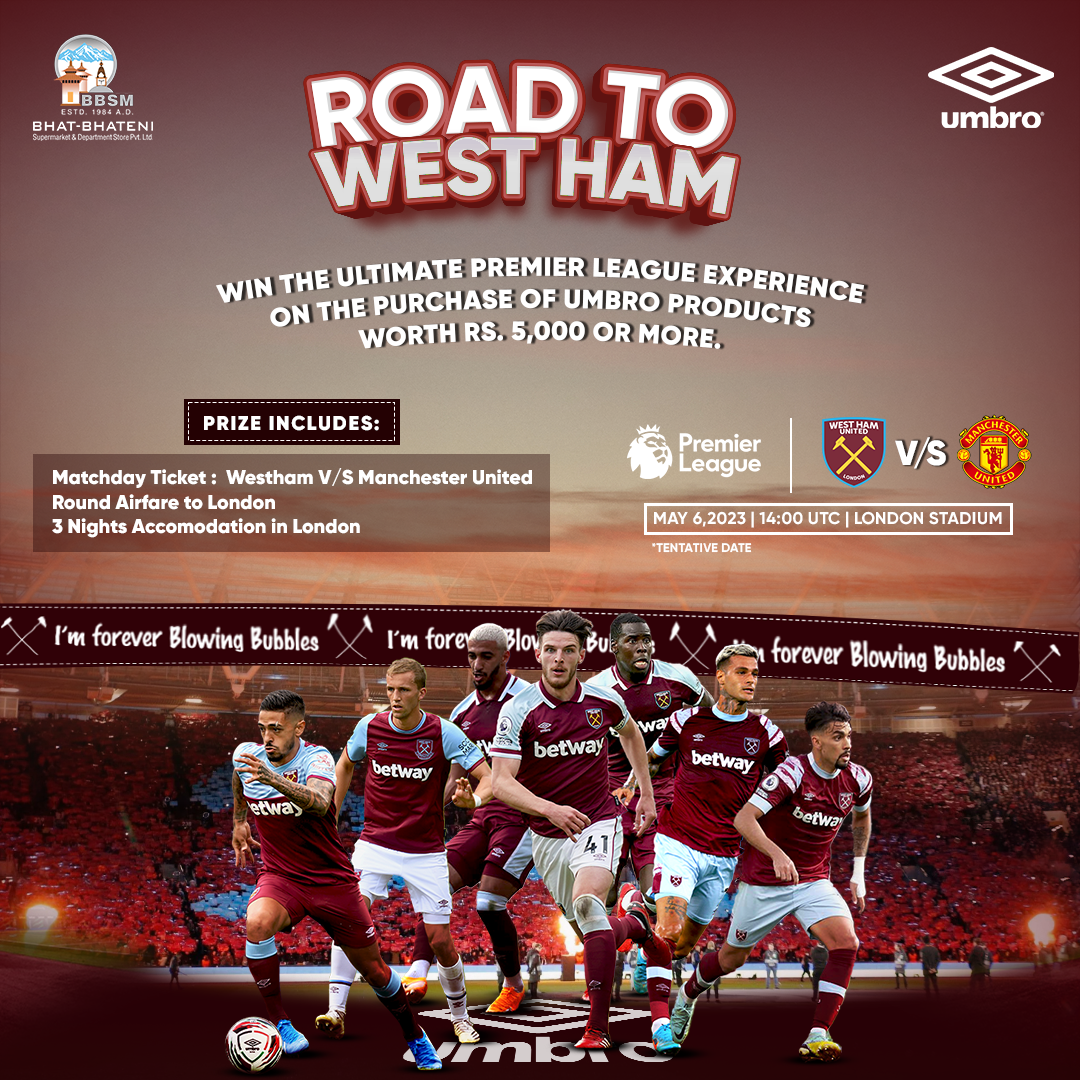 Look Of Dasrath Rangasala In COVID Pandemic