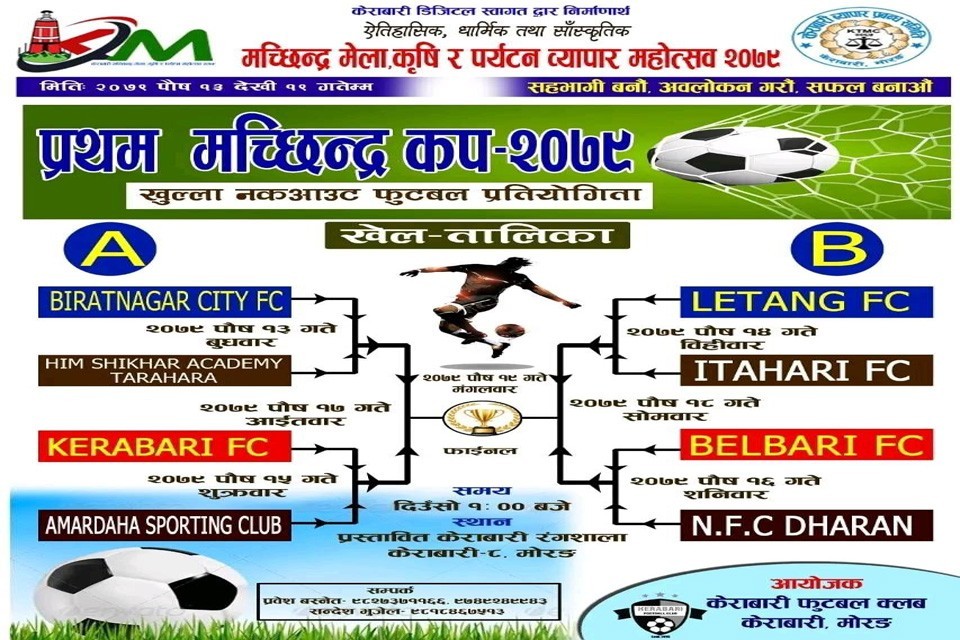 Morang (GoalNepal) - The preparations for the first Machhindra Cup Open Knockout Football Tournament, which is going to start on Wednesday, 13th of Poush, have been completed. The organizers have also announced the tournament schedule to be held at the proposed Kerabari Stadium located in Kerabari-8, Morang.
Sandesh Bhujel of the host club informed that Biratnagar City FC and Him Shikhar Academy will meet in the opening match of the tournament. Bhujel also said that the final of the tournament, in which eight teams are participating, will be held on the 19th of Paush.
The winners of the competition will receive Rs. 50,000 in cash along with the title, while the runners-up will receive Rs. 30,000 informed Pravesh Basnet, another member of the organizing club. Similarly, Basnet said that awards have been arranged for other individual categories as well.
GoalNepal is the official media partner of the competition.
6th Rumpum Udayapur Gold Cup: Morang Stuns Nepal Police - MATCH HIGHLIGHTS