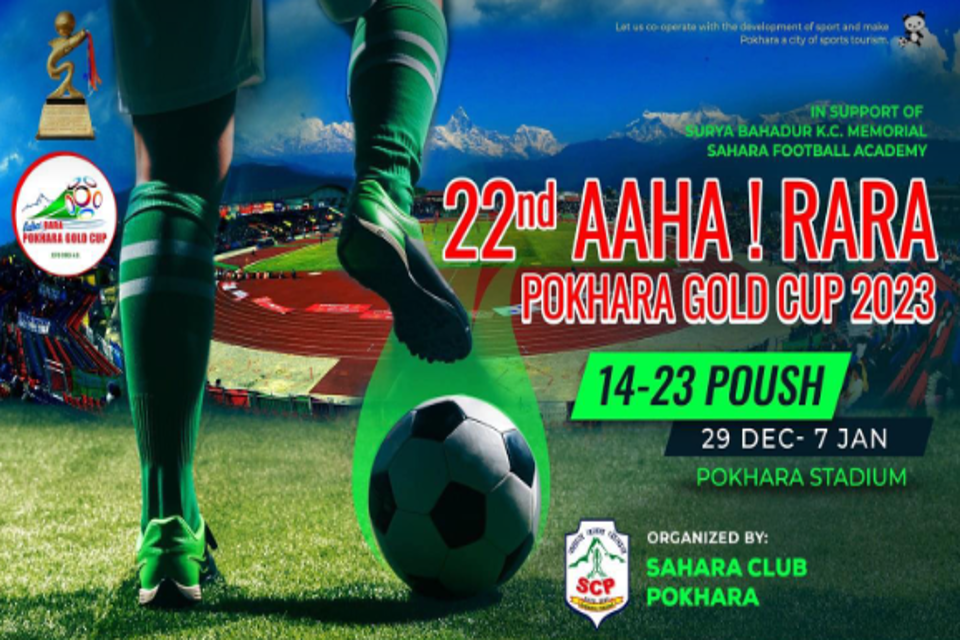 Pokhara (GoalNepal) - Ten participating teams for this year's 22nd Aaha! Rara Pokhara Gold Cup have been finalized. This year, the prize money for the competition which will be held from 14th to 23rd Poush at Pokhara Stadium, has also increased.
Sahara Club Pokhara previously received a schedule from ANFA saying that the tournament would be conducted from Poush 12 to 23, but due to the friendly match on the 13th, it has been moved two days later. Club general secretary Ramji Prasad Adhikari said that that is why ten teams have been selected instead of 12 as announced earlier.
APF Football Club, Manang Marsyangdi Club, Tribhuwan Army Football Club, Church Boys United Football Club, American BYSSC, Machhindra FC, Nepal Police Football Club, Sankata Club, Dharan Football Club and hosts Sahara Club Pokhara will participate in the tournament. APF are the defending champions of the tournament.
Similarly, the winners of this year will get 12 lakh rupees and the runners-up will get six lakhs. Prizes has been increased from 10 and five lakhs from last year for the winners and runners-up respectively.
The surplus money will be spent on the Surya Bahadur KC Memorial Sahara Football Academy run by the club. Sahara Club Pokhara President Hariram Gurung (Suraj) said that currently, there are 13 children under the third batch of the academy.
The income from the competition is estimated at 1 crore 59 lakh 50 thousand rupees and the expenditure is expected to be 1 crore 13 lakh 56 thousand rupees. It has also been announced that five category awards will be given in memory of Surya Bahadur KC.
Support organizations include National Sports Council, Provincial Sports Council, Gandaki and All Nepal Football Association and Regional Sports Development Committee and Kaski District Sports Development Committee and Kaski District Football Association, Sahara Club UK, Hong Kong and Australia. Pokhara Metropolitan City is the promoter of the tournament.