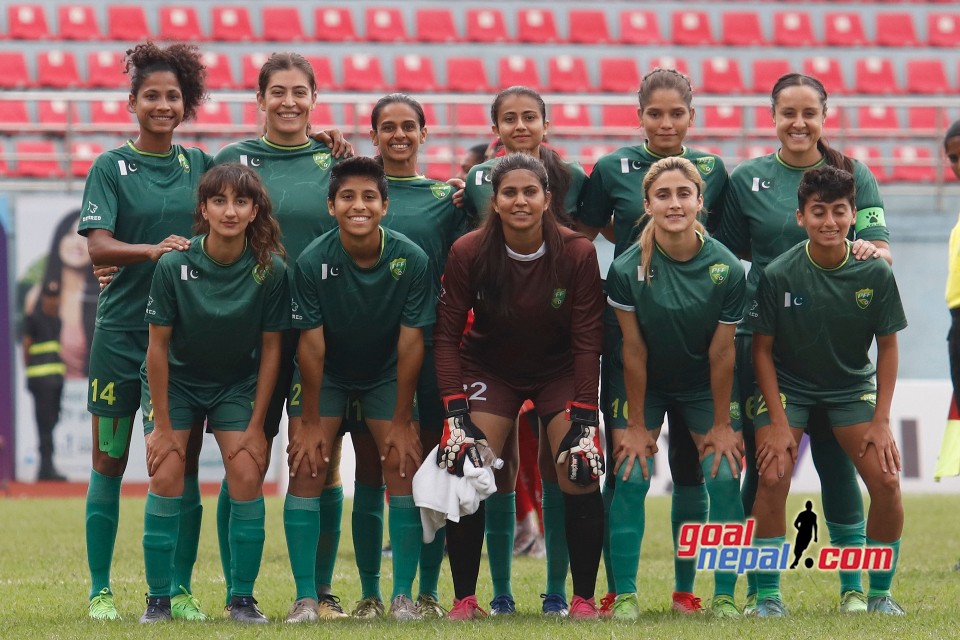 Pakistan have ended their SAFF Women's Championship return with a win. Pakistan defeated Maldives 7-0 at the Dasharath Stadium in their final group match to end their return to the tournament on a high. English WSL side Doncaster Rover Belles player Nadia Khan scored four goals in the win for Pakistan.
Both teams had already been knocked out of the tournament after two losses each, making this a dead rubber match. But both teams were looking to exit the tournament with a win in their bags.
Pakistan were on the front foot for the entire match. They took the lead in the match in the 40th minute through Rameed Fareed. Fareed's tame shot from almost 25 yards out stayed low for Maldives goalkeeper Aminath Leeza and rolled into the back of the net. The first half ended 1-0.
Pakistan added two goals at the start of the second half. Khadiza Kazmi doubled Pakistan's lead from the spot.
After the second goal was a Nazia show at the Dasharath Stadium in Kathmandu. Nadia scored three goals in the 53rd, 78th and 84th minutes and completed her hat-trick. Nadia's pace was too much for the Maldives, who outpaced the entire Maldivian defense to score all three goals. Nadia added another goal in the 90th minute of the match.
Substitute Anmool Hira rounded off the dominating win with a goal in the fifth minute of stoppage time.
Pakistan finish third in group A after the win. Maldives finish their campaign with no points.
India and Bangladesh, in group A alongside these two teams, have already made it into the semifinals. They will face each other later today at 5:30 PM. The result of the match will decide the group winners.